fabian oefner has taken the notion of a coffee table book to its literal extremes. the 'bialetti book' has been painstakingly assembled from dissected components of a traditional italian espresso pot, offering a new understanding of how we perceive the iconic object. in its realization, oefner filled a bialetti moka pot with actual coffee, embedded it in resin, and then meticulously sliced the resulting block into 12 individual pages that were finally bound into a book.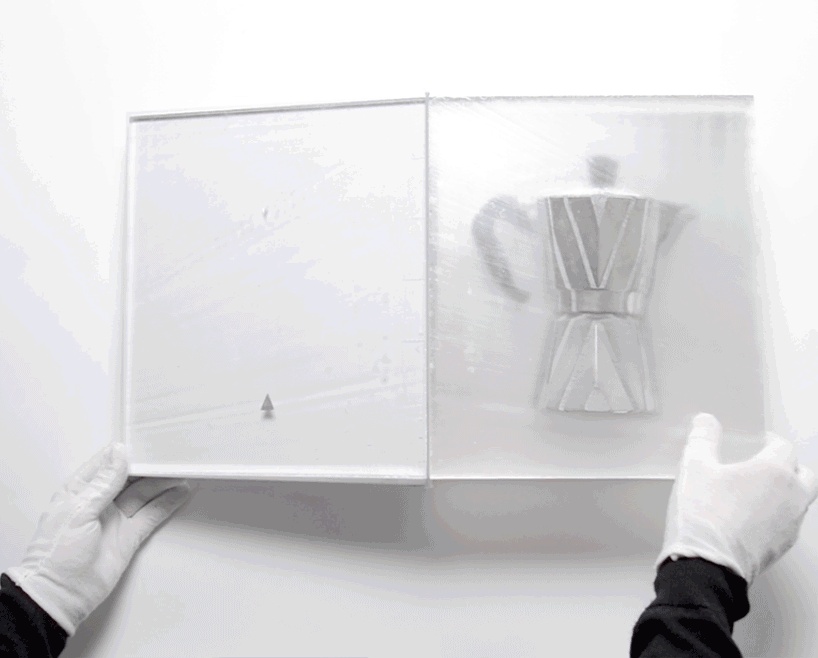 all images courtesy of studio oefner
inspired by science, oefner's approach to art is highly methodical. weighing more than 25 pounds, the 'bialetti book' forms part of the artist's 'spatial books' series — a collection of sculptural volumes that catalogue objects, such as a brionvega radio and the bialetti pot, within monumental resin 'pages'. each page reveals an individual slide of the object, uncovering its internal elements as never seen before. through his 'spatial books' series, oefner bypasses abstraction, and turns reality directly into a two dimensional space. 'as you browse through the pages, you get a completely different look on these familiar objects,' he says. 'the result is an intensified sense of space, dimensions, materiality, and time.'
see a video of oefner making the 'bialetti book' at the bottom of the page on his instagram, and discover more of the artist's carefully orchestrated works on designboom here.