This March, our family tried something different for our annual Mexico trip. Now before you start thinking eco-huts on stilts in the jungle, let me make a few things clear. Trial and error has showed us that what our family likes and wants in a vacation are:
Beautiful, diggable, sandy beach
Snorkeling or surfing, but with a mostly sandy bottom so kids feet don't get hurt
All-inclusive food – my kids are way too picky to ever order in a restaurant; they need to see what they're getting and won't eat it if they don't like the taste, texture or smell
Wheat-free food options, mostly fresh (not packaged, frozen) food
Simple but CLEAN rooms and bathrooms
Good energy, relaxing, not loud music and social conveners yelling at you through loudspeakers all day
A good Kids Club is a definite plus
Less than 300 rooms; this means the resort is small enough that the kids can roam free and play on their own with friends they make, because the staff all get to know them they never go more than a few minutes without seeing someone they know. So they feel safe and they get to experience free play (like we did as kids!) without their parents watching their every move.
So before, we've tended to go for the 5-star resorts, thinking: you pay more, you get more. We were also concerned with food safety (we'll skip the Montezuma's revenge thank you very much). However, we've learned that if you take your probiotics with you, this is not really an issue. We take Natren probiotics in powder form – this is important if you do start vomiting or having diarrhea because the capsules will not do much good in those situations, as the transit time is too fast.
So this year, we took a punt, I followed my gut and booked a small, local resort away from any large towns and about an hour and a half south of Cancun (we've been going to the Mayan Riviera for 20 years). My parents flew in from Phoenix and my brother flew in from New York and guess what? We ALL loved it and we're all booked to go back next year!
The resort is Akumal Beach Resort and it is owned and run by a local Mexican man (not Spanish or Italians as is usually the case in Mexico). But at any rate, things are definitely run differently than at most resorts, problems are fixed quickly and the staff are friendly and real.
The food – if you want fresh, local, non-processed food – is excellent. I spoke to the food manager and he told me that they try not to use any preservatives and they try to get whatever they can locally. This means your veggie options will often include things like cactus leaves, chayote and jicama. I met about 4 people at the resort who were either Celiac or gluten-free and everyone loved the food and found plenty to eat. They would also try to catch the fish locally. So you'd walk in for dinner and there would be a 4 foot long fish caught that day, sliced open along the side and the cook would be cutting filets out and slapping them on the grill.
The other noteworthy thing was they made their guacamole with real avocado! I know it seems amazing that a local food, in the land of plenty (of avocados) is made from a packaged mix at 5-star resorts, but there you have it. Many of the resorts really do use a mix and then just chop in a bit of fresh avocado, but you can sure taste/feel the difference from the real thing.
So yes, you do not have nearly the variety of dishes at each meal (compared to a 5-star resort), but for someone like me, because the food is fresh, I actually had MORE to eat than I normally do. Previously, I think I've been the only person in history who's gone to an all-inclusive resort and lost weight! But if most of the food contains chemicals, added wheat or soy (during processing), or is cooked in hydrogenated fat, then I pretty much stick to salads, fish and soup. But at Akumal Beach Resort I had no problem loading up my plate at every meal with a delicious assortment of fresh, clean foods.
The other reason the hotel probably gets a lower star rating (I think it's rated 3 or 3.5 stars) is the rooms are simple in size and decoration. BUT if you book in the newer blocks (oceanfront, Block 6 or higher) the rooms are perfectly nice and most importantly for me, they are very clean – what more do you need?
MARCH 2015 UPDATE! Just returned from 2 weeks at this fabulous resort – you can see some more pictures here. They have now upgraded the resort to 4-ish Star, so the cost is higher, but there is a LOT more food choice (but still cooked fresh and healthy) and the beds are 1000x better! The rooms are bigger and nicer, and you get your own hot tub on the patio or balcony. More common seating areas, plenty of shaded cabanas all along the beach, and there are many more restaurants to choose from. We all agreed the changes are well worth the increased charge. Everything else in this post remains correct and current.
We all agreed that a really fabulous difference with this resort is that it is built horizontally along the beachfront. Most resorts have a narrow piece of beachfront and then are built back – like a pie wedge or rectangle. Because beachfront is the most expensive property and developers are always looking to maximize their returns. But with Akumal Beach Resort, the ENTIRE resort is beachfront – so whether you're eating, swimming in the pool, having a drink in the bar, or lying in your bed… you're looking at the beautiful ocean. SO relaxing and invigorating to be in that space, day and night, for two weeks.
The town of Tulum (with the famous Mayan Ruins) is close by and we went snorkeling and kayaking in one of the local cenotes one day as well:
However, most of our time was spent snorkeling at the resort. Because Akumal is not very developed (yet!), you can walk right in the ocean and within 5 feet there are fish swimming around you. Another 15 or 20 feet and you're swimming with giant, gentle sea turtles. If you like snorkeling or scuba diving, it's a truly unique spot. As I said, we're already booked for next year! So if you're looking for a great family or quieter spot to vacation, with local, fresh food (chilies optional) definitely check it out – the rates are very reasonable!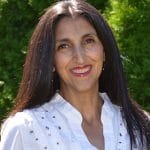 Jini Patel Thompson is an internationally recognized expert on natural healing for digestive diseases. She healed herself from widespread Crohn's Disease and has remained drug and surgery-free for over 20 years. Jini has appeared on numerous podcast, TV, and radio shows throughout the U.S., U.K., Canada, and Australia, giving people hope and vision for how they can heal their Colitis, Crohn's, Diverticulitis and Irritable Bowel Syndrome (IBS), using entirely natural methods. Her books on natural healing for digestive diseases have sold worldwide in over 80 countries.