Now here's something that can do MORE for your health than any drug currently prescribed for Inflammatory Bowel Disease.
Anyone with IBD, or IBS, knows that stress is the number one trigger for a flare.
But what if, right now, you could re-frame that trigger to a new reality of:
This is my body helping me rise to this challenge.
Kelly McGonigal will show you how:
Here are the top take-away points from Kelly McGonigal that you can embrace to give yourself a new mental and physical reality:
This is my body helping me rise to this challenge. I can trust myself to handle life's challenges.

Reaching out to others during stress strengthens my heart and makes my body healthier by increasing oxytocin production.

human Connection = stress Resilience

When you choose to view your stress response as 'helpful' you create the biology of courage.

Chasing meaning is better for your health than trying to avoid discomfort. Go after what it is that creates meaning in your life and then trust yourself to handle the stress that follows.
Soar higher!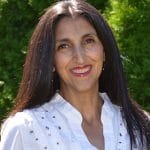 Jini Patel Thompson is an internationally recognized expert on natural healing for digestive diseases. She healed herself from widespread Crohn's Disease and has remained drug and surgery-free for over 20 years. Jini has appeared on numerous podcast, TV, and radio shows throughout the U.S., U.K., Canada, and Australia, giving people hope and vision for how they can heal their Colitis, Crohn's, Diverticulitis and Irritable Bowel Syndrome (IBS), using entirely natural methods. Her books on natural healing for digestive diseases have sold worldwide in over 80 countries.