Breeding a Kentucky Derby Presented by Woodford Reserve (G1) winner is catching lightning in a bottle, but someone IS going to catch it.
Following the 147th running of America's premier classic May 1, modest Florida breeder Gail Rice held the illuminated bottle in her hands. The lightning bolt was delivered by Medina Spirit , a son of second-crop sire Protonico  , who had sold as a yearling for $1,000.
"I have never felt anything like this. I'm so thankful, thankful, thankful," said Rice, who bred Medina Spirit out of the winning Brilliant Speed  mare Mongolian Changa. The Derby winner is the mare's only foal.
"This is a passion, but when it comes to fruition like this, how can it be more validating? You don't have to have a lot of money. When God gives you his favor, it doesn't matter where you came from," she said.
Medina Spirit came from humble beginnings as his yearling price indicated. Mongolian Changa was bought as a yearling for $9,000 by Rice's ex-husband Wayne Rice, who trained and raced the filly. She finished third in her first two starts at Keeneland and finally became a winner at Presque Isle Downs in her fourth start. She didn't race beyond her juvenile year because of an injury and retired with $25,970 in earnings.
"She was big and beautiful—not a lot of black type on her page—but I knew I could breed racehorses out of her," Rice said.
Mongolian Changa's dam, Bridled, had produced four winners from four foals to race and is a half sister to stakes-placed winner Miss Quisqueya. A bit further back in the pedigree is more proven ability with Mongolian Changa's third dam, Scoop the Gold , a stakes winner and the dam of Toyota Blue Grass Stakes (G1) winner and Florida Derby (G1) runner-up High Yield .
For Mongolia Changa's first mating, Rice chose first-year sire Protonico, a multiple grade 1-placed, grade 2 winner who entered stud at Taylor Made Stallions at $6,500.
"Protonico is by Giant's Causeway, so the mating was a really good cross," said Rice. Giant's Causeway crossed with mares out of Dynaformer and his sons had produced 69% winners and 5% stakes winners from runners.
"He was also affordable," Rice noted. Taylor Made also had another Giant's Causeway son entering stud that year, Not This Time  , whose fee was $15,000.
Mongolian Changa delivered a strapping colt that Rice said she really liked. If circumstances had been different, she would have kept him, but she could not afford the cost of raising and getting him broken and trained.
"I really could only afford to keep one horse and that was Scribbling Sarah," Rice said referring to the dam of Speech , who became the breeder's first grade 1 winner in the 2020 Central Bank Ashland Stakes (G1). At the time, Rice had three mares she owned outright and one she owned in part.
Pinhooker Christy Whitman snapped up Medina Spirit for $1,000 at the Ocala Breeders' Sales Winter Mixed Sale. Whitman would later offer him through the 2020 OBS July 2-Year-Olds in Training and Horses of Racing Age Sale (normally held in June but pushed back because of the delays in sales caused by COVID-19) where agent Gary Young bought him for $35,000 for Amr Zedan's Zedan Racing Stables. From there, the colt went to Hall of Fame trainer Bob Baffert.
Medina Spirit won his only start at 2 and was off to a quick start at 3, finishing second in the Sham Stakes (G3) before winning the Robert B. Lewis Stakes (G3). He went on to be second in the San Felipe Stakes (G2) and in the Runhappy Santa Anita Derby (G1). It didn't take long for Rice to start making plans to attend the Kentucky Derby.
"Watching him, I knew he could win. This horse can win; that is what I kept telling people," Rice said. "Everyone who has touched this horse has done a wonderful job. He didn't turn a hair on the walkover with all the people and everything."
Rice keeps her horses on an 18-acre farm north of Ocala, Fla., that is owned by her son-in-law, prominent East Coast jockey Jose Ortiz, who is married to her daughter, Taylor. She recently added two mares to her broodmare band, which unfortunately no longer includes Mongolian Changa. She gave the mare away after Medina Spirit sold for $1,000 and she needed to pare down her stock. She initially retained 10% of Mongolian Changa, but the mare was resold and is now owned by Taylor Made and some clients. Mongolian Changa was bred this year to Not This Time and has been checked in foal, according to Taylor Made.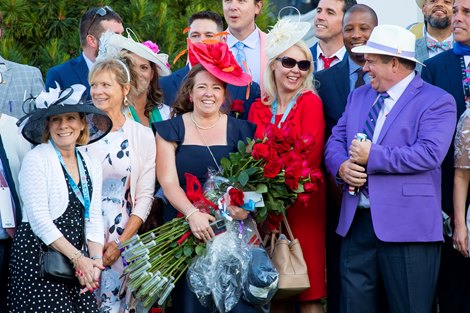 Gail Rice (second from left) joins Frank Taylor (right) and winning connections of Medina Spirit at Churchill Downs
Rice has no regrets.
"I got my dream," she said. "Last year I had Speech in the (Kentucky) Oaks, but this is THE race. I'm so happy that I touched him for the first eight to nine months of his life. He came off of my farm, out of my mare … it is the stuff you only hear about. It's like wow!"