Those of you who have been reading my blog posts on eating organ meats and watching my videos on healthy fats, already know why this recipe is super healthy for you. What you won't know – until you make it – is how amazingly delicious this is!
I served this pate to a friend of mine who has NEVER eaten liver. In fact, even the thought of liver made her feel queasy, but she loved it. She could not believe it and said she felt her body saying, "YES!" as she gobbled it up. I served it with Rosemary Herb Lentil Crackers, but any crackers or toasted bread will work well.
The truffle oil is optional, but really does add something special to the taste. Truffle oil also tastes wonderful added to mushroom soup – so then you will have 2 uses for it!
This pate also freezes very well. Just make sure you have sealed the dish well before placing in the freezer. To thaw, put dish in the fridge and allow to thaw in the fridge – there is no loss of texture, no separation of liquid, etc. You almost cannot tell the difference between the frozen and fresh!
I specify organic chicken livers, but free range would likely be okay. Do not use free run or factory farmed chicken livers as that would not be healthy, since all toxins pass through the liver and many are stored there.
Chicken Liver Mousse Pate
1/2 lb organic chicken livers (about 1 and 1/4 cups)
1/4 cup organic butter, softened + 1 tbsp butter + 1 tbsp butter
half a medium red onion, diced
2 thyme sprigs
1/4 cup organic heavy cream
1/2 cup organic chicken broth
1/8 tsp truffle oil
1 garlic clove, diced
1 shallot diced
1/2 tsp. unflavored gelatin powder
salt and pepper to taste
Directions:
1.  In a large skillet melt 1 tbsp butter. season the livers with salt and pepper and add to pan – cooking over medium-high heat until browned. Transfer livers to a plate.
2.  In the same pan, melt 1 tbsp butter, garlic, shallot, thyme sprigs and red onion. Stir until onions are soft, about 10 minutes. Discard thyme.
3.  Add chicken broth and stir until slightly reduced and thickened. Add livers back into the pan and allow to simmer about 5 minutes.
4.  Remove from heat and cool for 10 minutes. In your food processor, puree livers and 1/4 cup softened butter until smooth. Add cream slowly while processing until silky in texture.
5.  Pour 1/2 cup of the pureed mixture into a saucepan and sprinkle 1/2 tsp. of gelatin evenly over the top. Allow to sit for 1 minute.
6.  Then place the pan on the stove and heat until hot. When hot, whisk in the gelatin, add the remainder of the puree and whisk again. Heat the entire mixture, whisking every few minutes to make sure that gelatin is completely dissolved and distributed evenly throughout.
7.  Pour mixture into your mousse serving dishes, allow to cool for 15 minutes on the counter, then cover and put in the fridge until chilled.
Serve with crackers, or spread on toasted french bread and topped with shallot jam.
This recipe makes roughly 1.5 cups of liver mousse which should serve about 10 as an appetizer – or freeze some for later!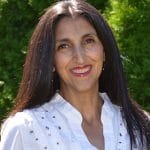 Jini Patel Thompson is an internationally recognized expert on natural healing for digestive diseases. She healed herself from widespread Crohn's Disease and has remained drug and surgery-free for over 20 years. Jini has appeared on numerous podcast, TV, and radio shows throughout the U.S., U.K., Canada, and Australia, giving people hope and vision for how they can heal their Colitis, Crohn's, Diverticulitis and Irritable Bowel Syndrome (IBS), using entirely natural methods. Her books on natural healing for digestive diseases have sold worldwide in over 80 countries.