Disclaimer:  This site is not affiliated with the National Hurricane Center, Hurricane Hunters, Storm Prediction Center, or National Weather Service.  ALL forecasts herein are the result of my analysis, and I am solely responsible for the content.  As ALWAYS, follow the National Hurricane Center, National Weather Service, and your local Emergency Management officials for emergency decisions.  In addition, this is strictly a FORECAST OFFICE.  I CANNOT make decisions regarding travel plans, etc.  My purpose, is to provide you the information, based solely on information I analyze, and the accuracy of the information at hand of the time of analysis, so you may make informed decisions.
(T. F. "Storm" Walsh)
For those who have donated to my site, your help has been greatly appreciated.  If you are not aware, donations to my site help pay for subscriptions to sites I use as well as software updates, which provide all the models and information used in my forecasts.  To donate, please click the DONATE button to the right side of the page, or on the graphic of the dog.  Any help you provide is immensely appreciated! 
DONATIONS NEEDED AND APPRECIATED

Good evening to everyone!
Please be aware, even though I do not post every night, rest assured I am continuously monitoring various areas for any significant weather.  I will be taking Sundays off (family time), unless we have active systems that may be posing a threat (i.e. Tropical, Winter Weather, Coastal Storms, etc.).
Given the lateness of the evening, I must make this short.  The entire SPC DAY 2 Severe Outlook will be linked to the very first SPC graphic, so you may view it in its entirety.  I have analyzed it myself, but do not have the time this evening to type it out in layperson terms.  I didn't want to leave you in the dark, and wanted to post something for a heads up.
The SPC has issued a SLIGHT RISK OF SEVERE THUNDERSTORMS OVER PORTIONS OF EASTERN OKLAHOMA AND FAR NORTHEAST TEXAS INTO THE MIDDLE MISSISSIPPI AND LOWER OHIO VALLEYS in the current DAY 2 Outlook…
…SPC SUMMARY…
Severe thunderstorms are expected across parts of Oklahoma and far northeast Texas into the middle Mississippi and lower Ohio Valleys on Monday. Damaging gusts, large hail and a few tornadoes will be possible with this activity. Additional strong to isolated severe thunderstorms are possible from the southern Plains into portions of the Southeast and Mid-Atlantic.
SPC DAY 2 CONVECTIVE OUTLOOK (LINKED)


TORNADO OUTLOOK


HAIL OUTLOOK

Probability of one inch diameter hail or larger within 25 miles of a point.
Hatched Area: 10% or greater probability of two inch diameter hail or larger within 25 miles of a point.
WIND OUTLOOK


Probability of damaging thunderstorm winds or wind gusts of 50 knots or higher within 25 miles of a point.
Hatched Area: 10% or greater probability of wind gusts 65 knots or greater within 25 miles of a point

Based on my analysis  of the outlook, regarding some severe weather indices (MLCAPE, STEEP MID LEVEL LAPSE RATES, DEW-POINTS OF 60 – 70F), the atmosphere is forecast to become moderately to strongly de-stabilized.  Based on my analysis this evening of the NAM – WRF model through F5 DATA software, SWEAT values, Lifted Indices, Energy Helicity Index, VGP, and Significant Tornado Parameter are currently forecast to be moderate to high as well.  Based on both the SPC outlook and NAM – WRF information, the following outlined maps indicate where the highest probability currently lies for the strongest of the severe weather, and tornado activity.  Based on analyzed indices, I cannot rule out an isolated EF2 tornado within the risk area, and possible upgrade to an ENHANCED risk over a portion of the SLIGHT risk area by SPC tomorrow in the DAY 1 Outlook.  As a reminder, these areas could change given any risk upgrade from the SPC, and any new information from the next 2 model runs.  Please refer to the SPC home page link below the convective watches graphic for the DAY 1 outlook for tomorrow.
The following F5 DATA NAM-WRF MAPS are in CDT.
F5 DATA NAM-WRF 10:00 A.M. CDT


F5 DATA NAM-WRF 1:00 P.M. CDT


F5 DATA NAM-WRF 4:00 P.M. CDT


F5 DATA NAM-WRF 7:00 P.M. CDT


F5 DATA NAM-WRF 10:00 P.M. CDT


F5 DATA NAM-WRF 1:00 A.M. CDT MAY 04

SPC MESOSCALE DISCUSSIONS (CLICK IMAGE FOR UPDATES)


SPC CONVECTIVE WATCHES (CLICK IMAGE FOR UPDATES)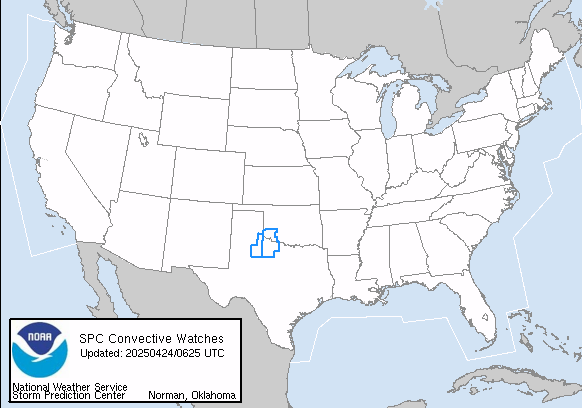 SPC HOME PAGE LINK
https://www.spc.noaa.gov/classic.html
The following NWS Watch / Warning map will provide local NWS information for your area.  Click the image, then once it refreshes, click on your area of interest to view any special weather statements, hazards or advisories for your area.
IF A TORNADO WARNING IS ISSUED FOR YOUR AREA, IMMEDIATELY TAKE STURDY AND SAFE SHELTER
NWS WATCH / WARNING DISPLAY (LINKED…CLICK MAP, THEN YOUR AREA)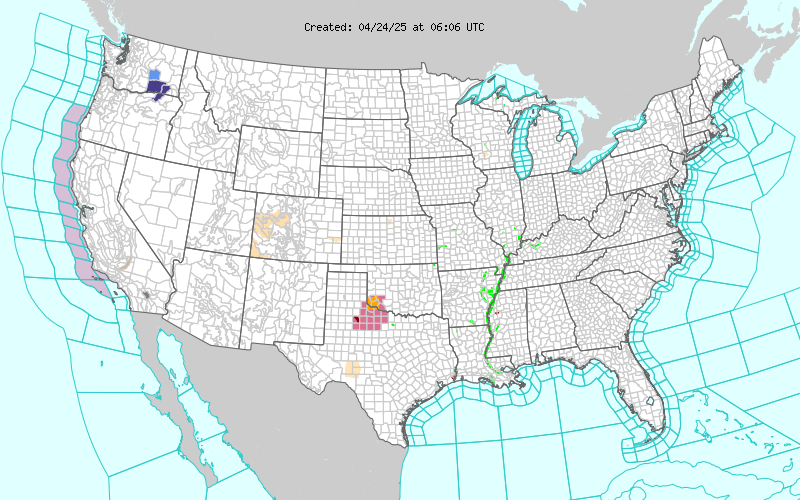 WSI DOPPLER RADAR LOOP (LINKED)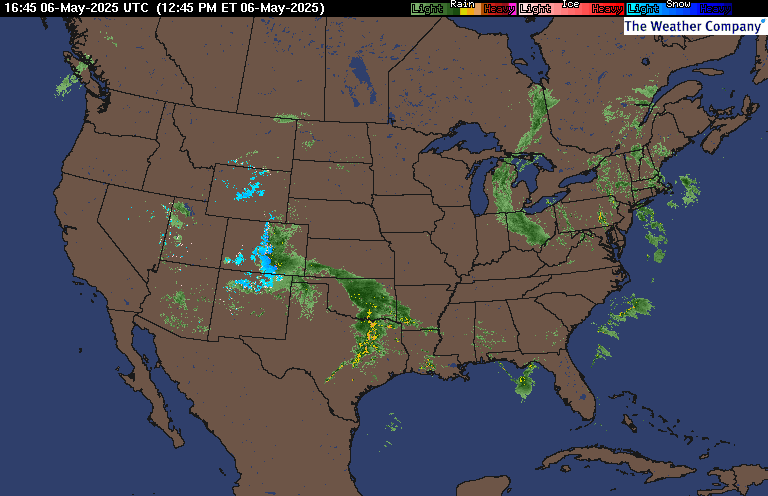 RAP RADAR (CLICK IMAGE THEN RADAR SITE)

You may direct any questions by contacting me personally, ANYTIME, at: [email protected]
Have a blessed evening!
T. F. "STORM" WALSH III
GMCS, USCG (ret)
METEOROLOGIST / HURRICANE SPECIALIST /SEVERE WEATHER SPECIALIST
MEMBER WEST CENTRAL FLORIDA AMS