hosted online until april 4th, earth optimism 2021 is exploring simple and innovative design solutions to protect our planet. the event is hosted by the cambridge conservation initiative which seeks to address the ocean and climate crises through a widespread collaboration driven by design-minded optimism. in fact, the group began the #earthoptimism movement to bring people together across the world to investigate solutions, and to shift the environmental narrative from one of 'doom and gloom' to one focused on success.
part of the earth optimism alliance, the cambridge conservation initiative hopes to change the tone of the climate discussion and move one billion people from overwhelmed to engaged. with speakers in the past including david attenborough and jane goodall, past summits have stressed the importance of individuals' personal conservation efforts. this year the earth optimism summit explores solutions from the fields of design and technology. simple, small-scale innovations can yield massive results when employed at a global level. discover five tech innovations shared at this year's earth optimism summit.
driving for change in plastic pollution

british startup the tyre collective addresses a major source of plastic pollution that is often overlooked. the plastic waste shed from worn down vehicle tires is the second biggest source of microplastics that is currently washing into the world's oceans. the team of four young entrepreneurs presents a thoughtful innovation which offers hope for stopping these emissions at source. the team introduces a device that is fixed to a vehicle and uses an electric charge to suck up tire dust as it is produced, before it escapes into the environment.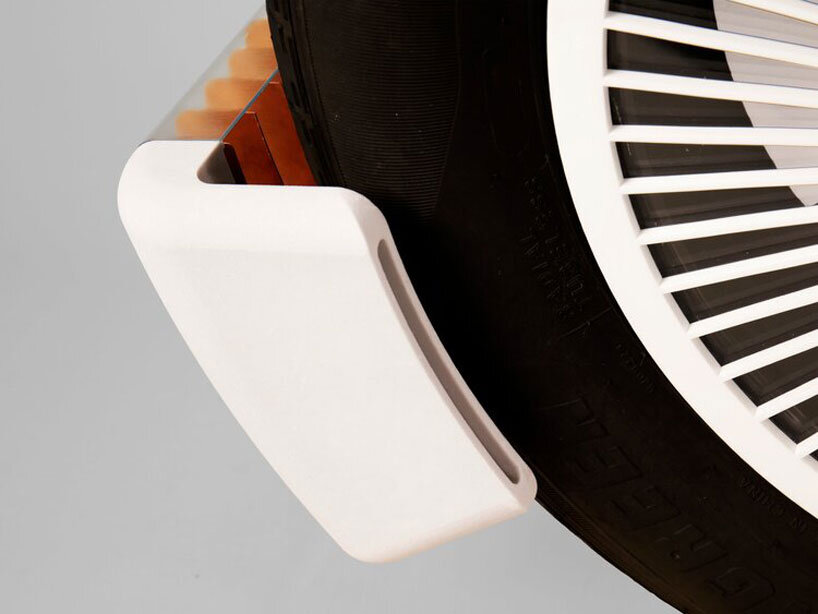 image courtesy of the tyre collective
getting albatrosses off the hook
the hookpod is introduced to protect vulnerable albatross from getting caught by longline fishing as they dive for baits. the initiative led by birdlife partners is working with fishing fleets across the southern ocean to address the problem which has had a deadly impact on the bird species. the hookpod works enclosing by the barb of the hook until it sinks into the water, out of reach of the foraging seabirds. safe, easy to install, and waste-free, the device has been proven to virtually eliminate bycatch — evidence shows a 95% reduction in bycatch when using hookpods, compared to standard line weighting and tori lines. chief executive of hookpod and marine biologist Becky Ingham comments: 'skippers have been reporting zero bycatch so it's more effective than we even hoped.'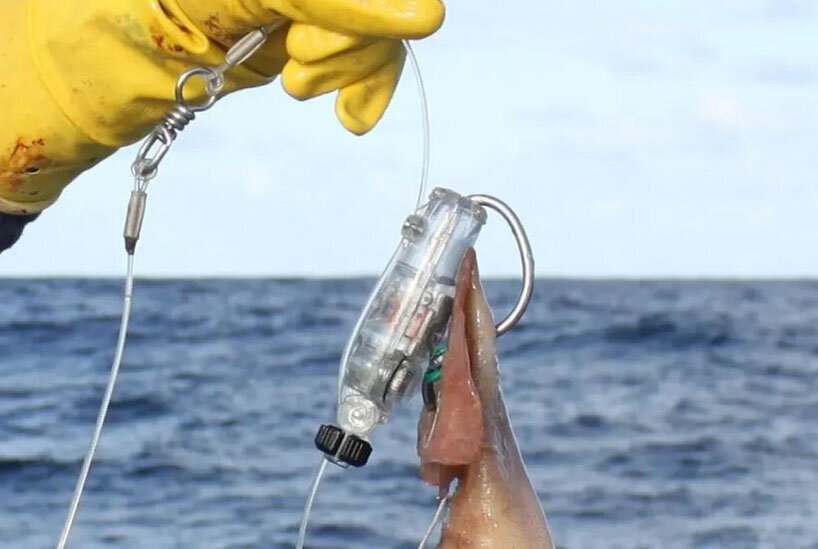 image by ben dilley, courtesy of hookpod
habitat pods
in australia, a team led by scientist alex carthey introduces lightweight, flatpack shelters for animals whose homes have been devastated by bush fires. while the country's vast bushfires surely had massive direct impacts, the removal of ground cover further made surviving animals much more vulnerable to such predators as cats and foxes. in response, the team develops an ingenious solution made from recycled cardboard. these tiny dwellings are easy to transport, modular, and biodegradable.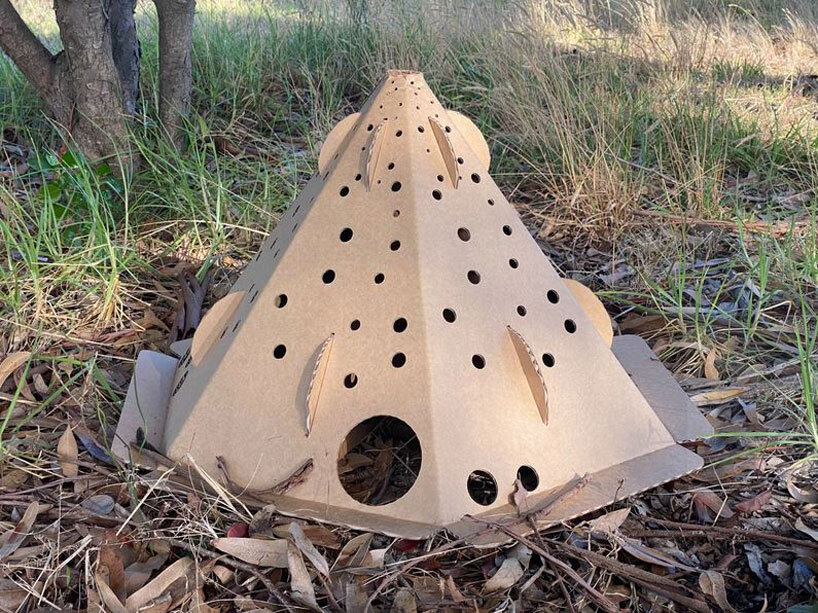 image by alex goad, courtesy of reef design lab
franciscana dolphin project
the shallow waters of brazil's southern coastline are home to one of the rarest dolphins in the world, including the amazonian pink river dolphin. these animals are at great threat due to accidental bycatch in fishing nets. project toninhas, a team led by professor marta jussara cremer, has investigated the dolphin's ecology to develop a community-led solution to reduce entanglement. the team makes use of photo identification to monitor the pod, uses sound to deter them from fishing nets. attached to the fishing net is a small battery-operated rubber 'pinger' that emits sounds preventing the dolphins from getting too close.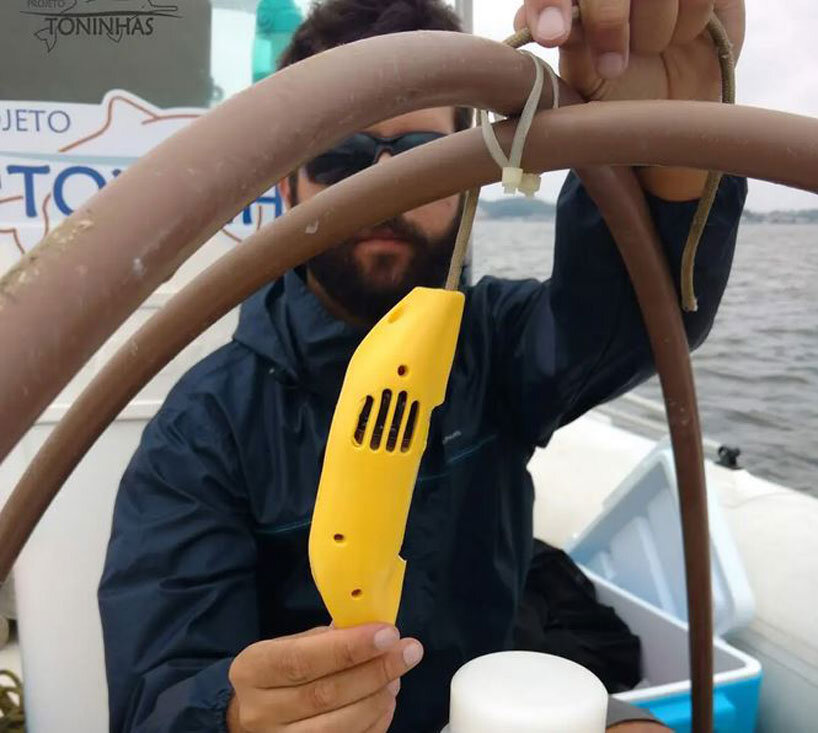 activating new wildlife enthusiasts with games
while computer games are often blamed for disconnecting people from nature, internet of elephants seeks to employ them to harness conservation. the team of 'wildlife lovers, data heads, gaming geeks and marketeers' are developing an augmented reality video game that tracks real life data to encourage safari-goers to protect endangered animals. the game is the culmination of a decade-long study of animal camera traps that invites the player to identify rare species in hundreds of wildlife photos, place camera traps to catch a glimpse of the clouded leopard, reveal scientific data, meet researchers, and uncover evidence that could help protect the habitat of the clouded leopard.