Disclaimer:  This site is not affiliated with the National Hurricane Center, Hurricane Hunters, Storm Prediction Center, or National Weather Service.  ALL forecasts herein are the result of my analysis, and I am solely responsible for the content.  As ALWAYS, follow the National Hurricane Center, National Weather Service, and your local Emergency Management officials for emergency decisions.  In addition, this is strictly a FORECAST OFFICE.  I CANNOT make decisions regarding travel plans, etc.  My purpose, is to provide you the information, based solely on information I analyze, and the accuracy of the information at hand of the time of analysis, so you may make informed decisions.
(T. F. "Storm" Walsh)
For those who have donated to my site, your help has been greatly appreciated.  If you are not aware, donations to my site help pay for subscriptions to sites I use, which provide all the models and information used in my forecasts.  Without these sites, I'm pretty much left in the dark.  The F5 Data maps I post as well for severe weather, is another out of pocket expense (monthly subscription).  Updates to software (weather related), are also out of pocket to me. Please keep in mind, even when the hurricane season ends, I have to keep up on these site subscriptions for severe weather and winter weather.  In all, I put out $68 a month to provide you, what I hope are accurate forecasts. To donate, please click the DONATE button to the right side of the page, or on the graphic of the dog.  Any help you provide is immensely appreciated!  Without your help, I may not be able to continue paying the monthly subscription charges for access to all of the information I use in my forecasts
DONATIONS NEEDED AND APPRECIATED

Greetings to everyone!
Please be aware, even though I do not post every night, rest assured I am continuously monitoring various areas for any significant weather.  I will be taking Sundays off (family time), unless we have active systems that may be posing a threat (i.e. Tropical, Winter Weather, Coastal Storms, etc.).
Good morning,

First, I wanted to start off by saying, in order to publish this synopsis in a timely manner due to severe weather currently ongoing, I will be posting the SPC current outlook text, vice having to type out the information I analyzed.  This is to disseminate the information quickly, based on my analysis of the outlook, and information provided from analysis of severe and tornado indices in the 06Zrun of the NAM-WRF model, provided by F5 DATA software.  I wanted to note, that I am in no way posting the SPC information and claiming it as "my" forecast.  I just want to get you the information as quickly as possible given that severe indices still remain fairly high.  This severe event is forecast to occur all day, and into the evening hours.  Based on analyzed indices, we could be borderline that the SPC issues a MODERATE risk area where the "hatched" areas are located in the following outlook maps.
The Storm Prediction Center (SPC) has issued an ENHANCED RISK OF SEVERE THUNDERSTORMS FROM SOUTHEASTERN ALABAMA AND THE FLORIDA PANHANDLE EAST TO THE GEORGIA AND SOUTHERN SOUTH CAROLINA COASTS……
…SPC SUMMARY…
Scattered severe thunderstorms are expected on Saturday across parts of the Southeast. All severe hazards appear possible including large to very large hail, damaging wind, and tornadoes.
SPC 06Z CONVECTIVE OUTLOOK


TORNADO OUTLOOK


Probability of a tornado within 25 miles of a point.
Hatched Area: 10% or greater probability of EF2 – EF5 tornadoes within 25 miles of a point
HAIL OUTLOOK


Probability of one inch diameter hail or larger within 25 miles of a point.
Hatched Area: 10% or greater probability of two inch diameter hail or larger within 25 miles of a point
The following is the outlook text:
A mid- and upper-level short-wave trough will continue moving eastward today, crossing the Mid South and Southeast before reaching the Atlantic Coast at the end of the period. In the wake of this feature, low-amplitude ridging will prevail, ahead of the next trough which will approach the West Coast late.
A somewhat ill-defined low is forecast to shift eastward across the lower Mississippi Valley and Gulf Coast states through the day, before turning northeastward overnight — crossing the Carolinas and reaching a position offshore of the Mid Atlantic Coast by 25/12Z. Widespread convection will occur across the southeastern quarter of the country, in conjunction with the advance of this storm system.
…Lower MS Valley/Gulf Coast states to the eastern Carolinas…
A complex scenario is evident today across the Southeast, as widespread/ongoing convection — and attendant/local severe risk — will be underway at the start of the period. The bulk of the stronger storms will be occurring in the vicinity of a warm front over southern portions of the Gulf Coast states. Widespread weaker/stratiform precipitation to the north will continue to reinforce this boundary into the afternoon, likely allowing little northward retreat. As such, a main corridor for severe potential will likely exist from southern Alabama and the Florida Panhandle eastward to southern South Carolina, as repeated rounds of storms/storm clusters cross this region. A very moist boundary layer along and south of the composite synoptic/convective boundary will contribute to moderate CAPE, and veering flow with height — particularly early in the period — will support organized/rotating storms and complex linear structures, with an all-hazards severe risk anticipated locally.
With time, CAM runs continue to suggest that a rather well-organized bowing cluster should move off the Georgia/South Carolina coasts during the afternoon, with low-level flow veering in the wake of this initial cluster. Still, favorably strong deep-layer flow behind this convection, across the Gulf Coast States, would support organized/severe storms. A main question is whether — and to what degree — destabilization can occur north and west of the clusters of eastward-moving convection — i.e. into eastern Mississippi and central Alabama. Models continue to hint that destabilization will occur — sufficient to support new storm development nearer the upper trough, but successive runs seem to be slightly less aggressive with this development. Still, will maintain SLGT risk across this portion of the area, to reflect this potential.
Overnight, much of the more vigorous convection will have moved offshore, the trailing portion of which should be drifting southward across northern Florida. A few storms may also occur across the southern Appalachians and then into the Carolinas vicinity, though likely elevated atop a stable boundary layer, and thus with only limited severe potential. ..Goss/Moore.. 04/24/2021
The following maps are from the NAM-WRF model 06Z run, utilizing F5 DATA Severe Weather software.  The outlined areas indciate where the most significant severe weather and tornadic activity could occur today.  The outlines are based on the analysis of values for the following severe and tornado indices:  Vorticity Generation Parameter, SWEAT index, Energy Helicity Index, 1 km Helicity, Lifted indices, and Significant Tornado Parameter.  ALL times are in Central Daylight Time.  As a reminder, these areas could change given any risk upgrade from the SPC, and any new information from the next model run.  As of current, the following outlines pretty much line up with the current STP parameters from the SPC SREF model.  Please refer to the SPC Home page link below the watches graphic for further updates regarding today's severe weather.
F5 DATA NAM-WRF 7:00 A.M. CDT


F5 DATA NAM-WRF 10:00 A.M. CDT


F5 DATA NAM-WRF 1:00 P.M. CDT


F5 DATA NAM-WRF 4:00 P.M. CDT


F5 DATA NAM-WRF 7:00 P.M. CDT

NAM-WRF STP ANIMATION GIF

SPC MESOSCALE DISCUSSIONS (CLICK IMAGE FOR UPDATES)


SPC CONVECTIVE WATCHES (CLICK IMAGE FOR UPDATES)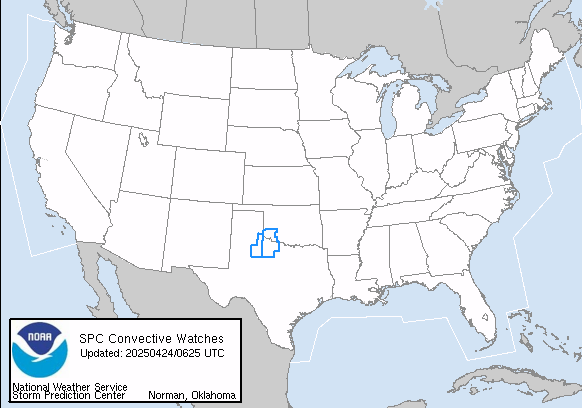 SPC HOME PAGE LINK
https://www.spc.noaa.gov/classic.html
The following NWS Watch / Warning map will provide local NWS information for your area.  Click the image, then once it refreshes, click on your area of interest to view any special weather statements, hazards or advisories for your area.
IF A TORNADO WARNING IS ISSUED FOR YOUR AREA, IMMEDIATELY TAKE STURDY AND SAFE SHELTER
NWS WATCH / WARNING DISPLAY (LINKED…CLICK MAP, THEN YOUR AREA)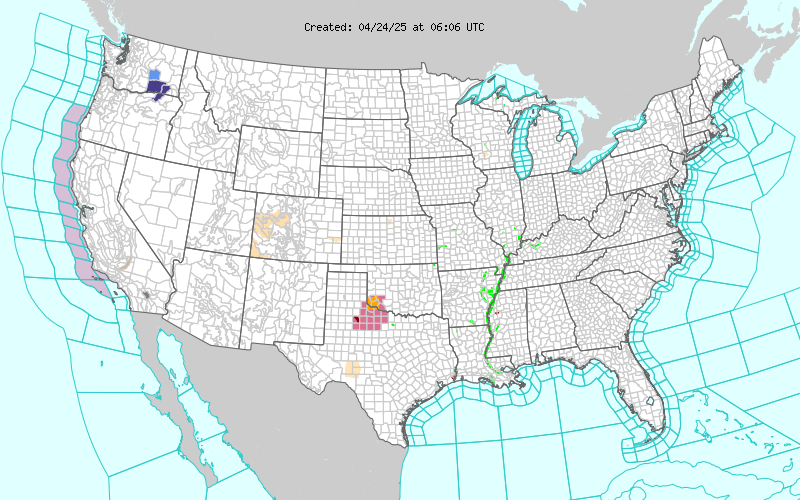 WSI DOPPLER RADAR LOOP (LINKED)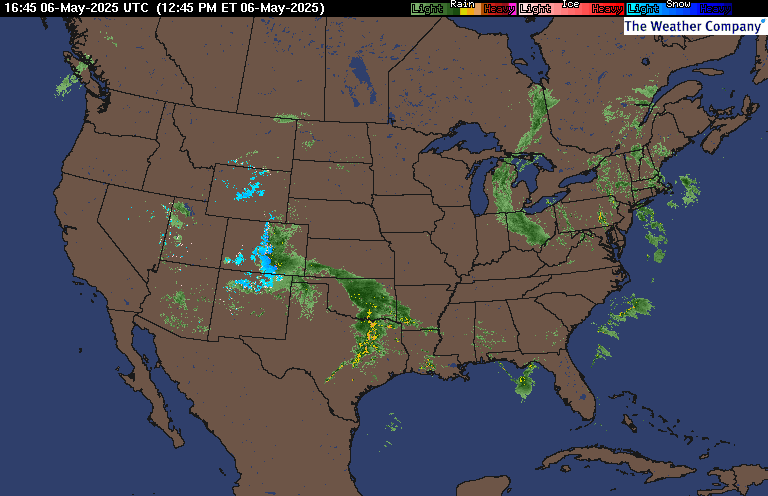 RAP RADAR (CLICK IMAGE THEN RADAR SITE)

You may direct any questions by contacting me personally, ANYTIME, at: [email protected]
Have a blessed evening!
T. F. "STORM" WALSH III
GMCS, USCG (ret)
METEOROLOGIST / HURRICANE SPECIALIST /SEVERE WEATHER SPECIALIST
MEMBER WEST CENTRAL FLORIDA AMS