Steve Dance, a senior member of Fasig-Tipton's auction team for five decades, passed away suddenly the morning of May 25 at his home in Jarrettsville, Md., which he shared with his wife, Nancy. He was 78, and it was suspected he suffered a massive heart attack. Dance worked until the last day of his life and the many sellers and buyers at Fasig-Tipton's 2-year-old sale, just a week ago in Timonium, Md., would have seen him plying his lifelong trade in the auction stand at Timonium in his beloved home state.
Hiram "Steve" Dance was born in 1943 in the small, country town of Towson, just a few miles north of Baltimore. The then-struggling Thoroughbred auction company, Fasig-Tipton, in the late 1940s had appointed Humphrey Finney, another Towson resident, as its president. Although Finney left Towson in 1953, Dance's uncle, "Laddie" Dance, Finney's son John Finney, and Larry Ensor, all subsequent luminaries at Fasig-Tipton and all "Towsonites," befriended the younger Dance and found a variety of jobs for him at a rapidly expanding number of the company's nationwide auctions. Honing his horse auction skills under the likes of George Swinebroad, Laddie Dance, and Ralph Retler was a daunting task but Dance's hard work, reliability, and enthusiasm paid off, and he became a full-time auctioneer and bid spotter for the company in 1972.
From that time forward, Dance did not miss a single Fasig-Tipton auction in a career which lasted for an enviable 50 years.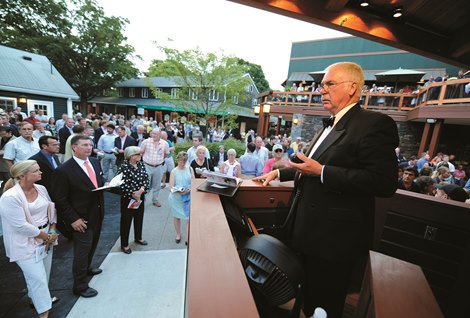 Steve Dance watches for bidders in the back of the Fasig-Tipton sales pavilion during The Saratoga Sale
But the glamor and celebrity of the Thoroughbred world did not monopolize Dance as it did with many of his peers. Again, until the day he died, Dance owned and operated the company founded by his grandfather in 1912, the Milton J. Dance Auction Company. From the company's present base in Towson, Dance sold everything from pots and pans, to antiques, to multi-million dollar mansions. And, if there was such a thing as spare time, he traveled the length and breadth of the country selling and bid-spotting at celebrated motorcycle auctions from Daytona, Fla., to Sturgis, N.D.
His "metier" was undoubtedly the Thoroughbred horse, but his passion was motorcycles—BMW motorcycles to be precise. Dance was a riding encyclopedia of BMW bikes and owned up to 20 at a time in his busiest years. He rode them all over North America—Alaska to New York to Florida. He converted me to BMW's in the mid 1980s and, without question, our ride together from the 2-year-old sale in Miami to the 2-year-old sale in Dallas was the greatest road trip two friends could make.
Dance found great happiness in later life, when, in 2011, he married his soulmate and loving companion Nancy, who survives him in Jarrettsville, Md. He is also survived by his two daughters Erica and Whitney, his son Lee, stepdaughter with Nancy, Layne, and three brothers, Andy, Scott, and Tom.
Notice of funeral arrangements will follow.