The final moments of the Fasig-Tipton Winter Mixed Sale Feb. 9 were passed in a flurry of activity as horses in the addendum drove the buyers indoors and the prices into the six figures. 
Fasig-Tipton reported 218 horses sold from 260 offered on Tuesday. Gross receipts for the day came to $8,550,400. The average was $39,222 and the median was $11,000. The 42 unsold horses represented an RNA rate of 16.2%. Across the two days of sale, 425 horses were reported sold for $12,506,700. The 99 unsold horses represented a cumulative RNA rate of 18.9%. During the same sale in 2020, 368 horses sold for $9,777,100.
"Obviously, the sale was dominated by the highlights later in the sale, but we had quality horses throughout the sale. It's the same story over and over, quality sells," said Fasig-Tipton president and CEO Boyd Browning. "The demand for quality offerings is tremendous. Two things that were most encouraging today were the breadth of bidders on the quality offerings—there was activity all over the house on many horses—and it was also nice to see a couple new names on the sheets that have not been traditional buyers at this sale. It's encouraging. We've got to continue to grow and introduce new buyers to the game.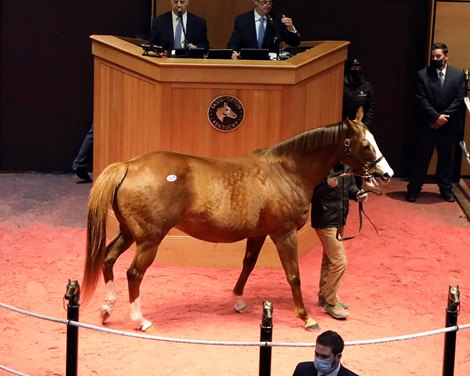 Sales-topper Beloveda at the Fasig-Tipton Winter Mixed Sale
"Anyone would have to be thrilled to see the increases over a year-to-year basis. I caution that the quality of the catalog does change from year-to-year for a mixed sale, so it's virtually impossible to compare those results, but clearly there was healthy trade and commerce that took place on these sales grounds. There was enthusiastic bidding and participation. There was also depth to the marketplace which results in a low overall RNA rate. I think it gave sellers confidence that they can bring a horse to the February sale and be rewarded. We all know in the sales world that being a bigger fish in a smaller pond can be a very effective marketing and sales tool. Folks were well rewarded for bringing quality horses to these sales grounds." 
The final horse through the ring on Tuesday was Saguaro Row, a 6-year-old Union Rags  mare offered as Hip 675 by Blake-Albina Thoroughbred Services, agent. As the second-highest priced horse of the day, she was purchased for $500,000 by bloodstock agent Catherine Hudson on behalf of an undisclosed client. 
"I purchased her for a private client but we are so excited about this," said Hudson, who said it was her first experience bidding to half a million while alone at a sale. "We are hoping we might keep her in training. The ultimate goal is she's going to be a really awesome broodmare for my client. She's a queen.
"The race fillies right now are making double their value with black-type. We knew she would cost money. We weren't sure it would be that much. We had a limit but when a horse like her comes in and we want this racehorse or broodmare prospect, you have to pay. The client surprised me." 
Offered as a racing or broodmare prospect, Saguaro Row was bred in Kentucky out of the Indian Charlie mare Charlie Girl. She is a half sister to juvenile stakes winner Pinnacle Peak and her dam is a half sister to My Wandy's Girl, champion imported filly at 3 in Puerto Rico in 2012 and later winner of the Barbara Fritchie Handicap (G2) at Laurel Park in 2014. 
In total, the mare has six stakes wins or placings at three different racetracks, including a second to grade 1 winner Spiced Perfection in the 2019 Go for Wand Handicap (G3). She holds a 5-2-2 record from 16 starts and $342,354 in earnings. 
Hudson said a trainer had not yet been chosen for the mare should she return to the track. 
"We have some ideas who we'd use," said Hudson. "We want someone where she would be the best horse in the barn and where they would really appreciate her."
"We're ecstatic," said Hanzly Albina of Blake-Albina. "How can you not be pleased with that? Catherine Hudson is an accomplished horsewoman and she saw the value and beauty in this filly, and we're very happy she's in good hands. We couldn't be happier. Hopefully, the partners are happy, and we wish them a lot of luck. Hopefully, we will see her race again."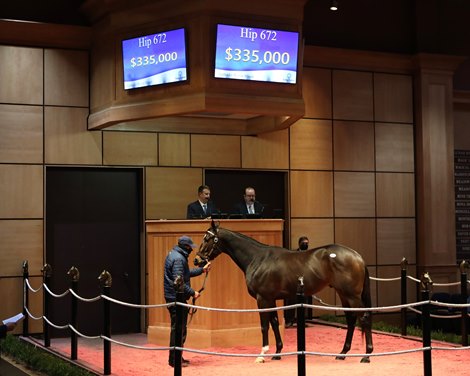 Hello Hot Rod in the ring at the Fasig-Tipton Winter Mixed Sale
Another horse set to return to the track is Hip 672, Hello Hot Rod, a Maryland-bred 3-year-old Mosler  colt who recently won the Jimmy Winkfield Stakes Jan. 31 at Aqueduct Racetrack. Consigned by ELiTE, agent, the sophomore is nominated to the 2021 Triple Crown and was purchased for $335,000 by George Sharp. 
"He's going to Turf Paradise," said  Charlie Allen, who signed the ticket on behalf of Mr. Sharp. "They'll settle him in and I think they'll run him in the Turf Paradise Derby if everything works out. Then they'll decide if they want to move on to a (Kentucky) Derby (Presented by Woodford Reserve, G1) prep from there." 
With the mixed sales season now completed, Browning said he was looking forward to the upcoming 2-year-old sales season. While the COVID-19 pandemic continues to be a factor in daily life, Browning said he was encouraged by how well the industry had adapted to the changes. 
"We all know that we're going to put a mask on, that there will be temperature screening, and we're all trying to spread out and do the best we can," said Browning. "Change is difficult. There is always resistance. It takes us all awhile to adapt. I don't think anyone likes wearing masks but the reality is, we're all seeing now that if we have to wear a mask, then we're going to wear a mask and get some business done. I think that demonstrates resilience and adaptability of people throughout the country and in our industry. 
"We're looking forward to moving to The Gulfstream Sale next month. I'm encouraged because the 2-year-old sales were the most impacted by the timing of the COVID crisis in 2020. I think we've all seen significant adaptations and adjustments made, and I hope that we will be able to conduct the sales in as normal an environment as we can in 2021."