Retired jockey Larry Melancon, the seventh leading jockey by wins and stakes wins in Churchill Downs history, died March 25 at his home in Louisville, Ky., according to the Louisville track. He was 65.
The former rider's health had declined in recent years after suffering a stroke in 2017. 
A Louisiana native, Melancon retired from riding in 2010 after a successful career in which he won 2,857 races and more than $60 million in purses, according to Equibase statistics. He then remained active in racing, working as an assistant and exercise rider for trainer Al Stall Jr., and he briefly represented Hall of Fame rider Calvin Borel as a jockey agent.
"I knew Larry a long time as a rider and as an exercise rider/assistant. He was obviously a friend," said Stall. "No one liked the way it ended after the stroke he had a few years ago. He was a super professional person on a horse's back and off a horse's back. He was just a quality kind of guy and a fun-loving guy."
Following his stroke, Melancon could occasionally be seen around Churchill Downs, sometimes joining Stall in winner's circle photographs.
Melancon was known for his hard work and horsemanship. Regularly securing mounts by trainers such as Niall O'Callaghan, Lynn Whiting, and Blackie Huffman, he rode Bachelor Beau, Guided Tour, Pineing Patty, Keats, Phantom On Tour, Danville, Allamerican Bertie, Undermine, Roxelana, License Fee, Off Duty, and Embossed to graded stakes victories.
During Guided Tour's successful career, O'Callaghan praised Melancon for his tireless work breezing his trainee, known as "The Bus," owing to the gelding's name and slow-paced workouts. Guided Tour won the Stephen Foster Handicap (G2) at Churchill Downs in 2001.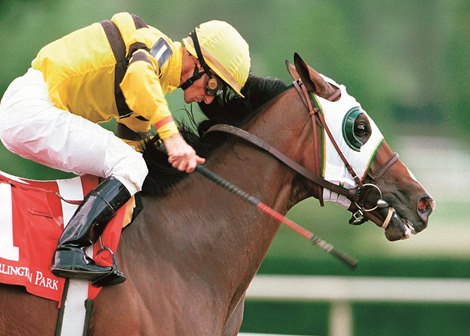 Larry Melancon aboard Guided Tour
"The Churchill Downs family is deeply saddened to learn the news of former jockey Larry Melancon's passing," said Churchill Downs president Mike Anderson. "Larry was amongst the winningest jockeys in Churchill Downs history and was known for his skilled horsemanship. More importantly, Larry was a class-act who was always willing to lend a helping hand. He will be greatly missed. Our condolences go out to his numerous friends and family during this difficult time."
Melancon's horsemanship was also noted by Stall, recalling his experience with him as a jockey and when Melancon was galloping horses.
"He didn't meet you in the paddock, ride, and jump off. He was interested in the stock he rode, especially the better ones for obvious reasons. His feedback was simple and to the point. If he'd work a horse that worked well, he'd come back and say, 'Get the condition book out.' That's exactly what he would say. I didn't need to hear about the last eighth, the gallop-out, or anything. It was just time to get the condition book out."
Melancon rode his first winner in 1971 at defunct Jefferson Downs Race Track, near New Orleans. His career would eventually take him to Kentucky, where he rode four times in the Kentucky Derby (G1), his best result being a fourth-place finish in 1976 on Amano. 
Stall said Melancon was universally well-liked, recalling a summer at Saratoga Race Course with Melancon and Walker Hancock of Claiborne Farm.
Walker "had a bunch of young guys around the barn all the time. And Larry would put on a little show for them. They just loved Larry," Stall said. "And then they would all go to my house, Walker's rental house, whatever they had, and Larry would cook for them, that Cajun food. They thought they died and went to heaven."
Melancon is survived by his wife, Denise, and his children, Heather and Lance.
Funeral arrangements have not been announced.