Listen To Your Freedom is my new, unique program that will take you through the journey of discovering your top talent, your most important gift that you are here to share with the world. Then it will show you how to turn that passion, or interest, or skill, into an automated, online business that earns you money even while you sleep.
For those of you who have signed up to the waitlist already, thank you SO much for your patience!
Please know that we are making great progress on the Listen To Your Freedom program and I'm am trying to get this fabulous training program to you just as soon as possible – but you also know about my high standards, and I will not release it until all the kinks have been worked out!
For example, one of the things we realized (via the 16 Testers currently going through the program) is that people need to receive the entire course content at once. Almost every other online business training program releases it's content in stages. This is supposed to keep people motivated. However, we found it was much more helpful for people to be able to jump around the modules and grab what they needed when and as they needed it. This way they can move with the flow of their inspiration.
This email from a tester illustrates perfectly why that's so important – she had not completed some of the earlier modules yet (she did not even have a shopping cart), but she was able to jump ahead to Module 13 and begin creating her audio course – she was able to flow with her passion (that's internal motivation!):
"YAHOO thank you from the bottom of my heart. There are no words to say. After 12 solid hours sitting at the computer (after 2 months of recording and writing) I jumped up from my desk screaming "I'm done!" Over and over. Burst through my office door screaming, the kids all started cheering and I ran straight out the door. Running through my yard shouting like a crazy woman, "I'm done, Thank you god I'm done!"

I went completely around my yard and straight to my beautiful trees and hugged them offering my gratitude. As I walked up the drive, my eldest daughter met me and hugged me, everyone was standing at the kitchen door cheering, what a moment. I will never forget the process when my magnificence burst forth. Thank you for all the support and teaching. Without LTYF, this would have taken 10 more years!"
Anyway, know that I am going to honor your patience by giving you a massive discount when the program goes live! And know that I am working as hard and fast as I can to get everything completed.
If you haven't got on the waitlist yet – what are you waiting for? : )
Even if you don't want to start any kind of business, I encourage you to get on the waitlist anyway as I'll be sending out some great free stuff that will help you pinpoint what you do want from your life (that's currently missing) and also help you clear any blocks and saboteurs that are stopping you from creating a vibrant, juicy life.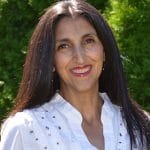 Jini Patel Thompson is an internationally recognized expert on natural healing for digestive diseases. She healed herself from widespread Crohn's Disease and has remained drug and surgery-free for over 20 years. Jini has appeared on numerous podcast, TV, and radio shows throughout the U.S., U.K., Canada, and Australia, giving people hope and vision for how they can heal their Colitis, Crohn's, Diverticulitis and Irritable Bowel Syndrome (IBS), using entirely natural methods. Her books on natural healing for digestive diseases have sold worldwide in over 80 countries.