Monsanto Hates This… But You'll Love It!
The evidence is in – there are studies out there Monsanto has been hiding from us. Get the whole story here:
Click here to see what it's about ==> GMO Mini Summit
Are you as suspicious as I am as to why Monsanto is spending tens of millions of dollars to fight GMO labeling?
I hope you'll join me as the TRUTH about GMOs is exposed in this pivotal online, 3-day summit that's happening October 25-27, 2013.
You'll have a chance to hear from some of the world's top experts, researchers and activists on the latest (and sometimes shocking) information on GMOs.
Click here to see what it's about ==> GMO Mini Summit
Speakers include former pro-GMO scientist Dr. Thierry Vrain, who will lift the veil and expose the truth Monsanto doesn't want you to know.
You'll also hear from environmental hero, author and activist Vandana Shiva tell you the global impact of GMOs.
10 leading authorities will be interviewed over 3 days about the impact GMOs have on us all.
Some of the most interesting topics (to me) are the impact GMO dog food is having on our pets. Also an experiment done by a 3rd generation farmer in which identical groups of hogs were fed GMO and non GMO grain for the entirety of their lives. The results of his study have rocked the farming world.
You'll discover the information inside the scientific studies on GMOs and come away with a plan on how to stay empowered and take action.
Click here to see what it's about ==> GMO Mini Summit
Everyone is welcome and there's no cost.
Check it out now!
Click here to see what it's about ==> GMO Mini Summit
P.S. Once you sign up, please use your Facebook, Twitter etc. to tell your friends about this pivotal event. Registration is free for everyone!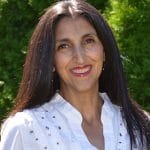 Jini Patel Thompson is an internationally recognized expert on natural healing for digestive diseases. She healed herself from widespread Crohn's Disease and has remained drug and surgery-free for over 20 years. Jini has appeared on numerous podcast, TV, and radio shows throughout the U.S., U.K., Canada, and Australia, giving people hope and vision for how they can heal their Colitis, Crohn's, Diverticulitis and Irritable Bowel Syndrome (IBS), using entirely natural methods. Her books on natural healing for digestive diseases have sold worldwide in over 80 countries.