the nordic pavilion at the 2021 venice architecture biennale has been transformed into a full-scale section of a solid wood co-housing project. designed by helen & hard, the timber structure engages directly with the architecture of the pavilion, which was designed by norwegian architect sverre fehn. 'we discovered that we wanted to create an installation in timber, a material that we use extensively in our projects, that connects to the ground in dialogue with the fantastic space and roof structure by sverre fehn, and creates a spatial center around the three trees in the pavilion,' siv helene stangeland and reinhard kropf, partners and creative directors at helen & hard, tell designboom in this exclusive interview.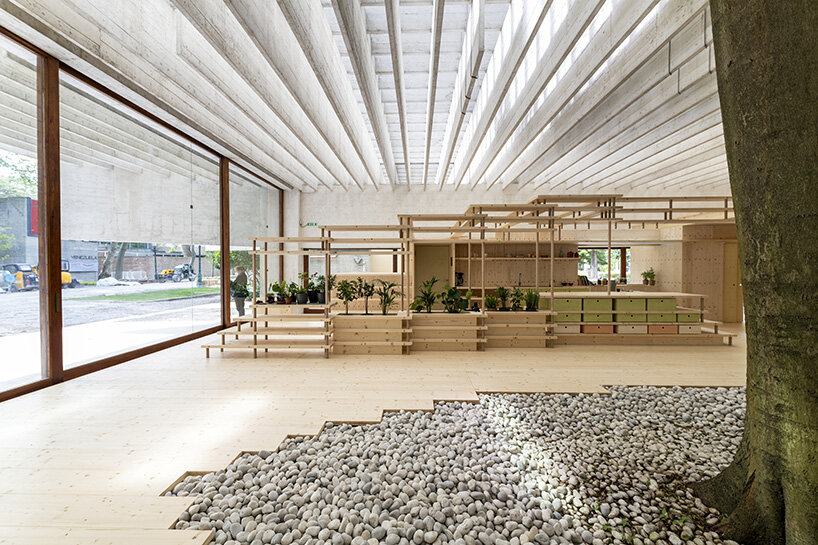 all images by chiara masiero sgrinzatto and luca nicolò vascon, courtesy of the national museum of norway
selected by the nordic pavilion commissioners thanks to innovative work in the field of co-housing, helen & hard have cooperated with residents of the practice's co-housing project 'vindmøllebakken' in stavanger, norway. at vindmøllebakken, the residents have relatively small but fully equipped apartments, several shared facilities and spaces, and a vibrant local democracy. in the exhibition, residents have been challenged to develop an even more radical version of co-housing. 'we were surprised that many residents felt they could share even more with their neighbors — but they also emphasize how important it is that individual needs are met in their own private unit,' the architects share with designboom.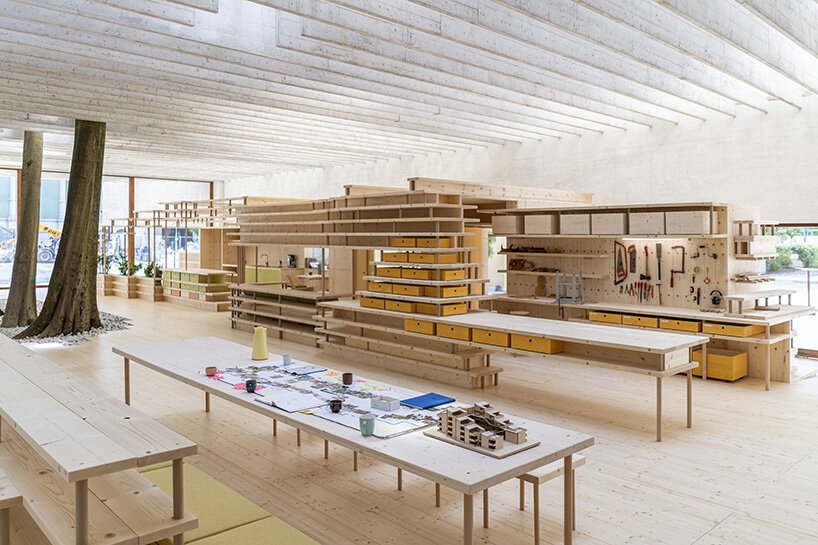 curated by the national museum of norway, the exhibition in venice is titled 'what we share. a model for co-housing'. the exhibit presents a framework for designing communities based on participation and sharing, and builds on the nordic co-housing model, which combines owner-occupancy and individual living units with shared facilities and communal participation. 'there is an urgent need in the housing sector to explore new models of communal living,' says senior curator martin braathen of the national museum of norway. 'in the past year, questions about our ways of living, and how they closely relate to issues such as loneliness, social encounters and community, have become even more acute.'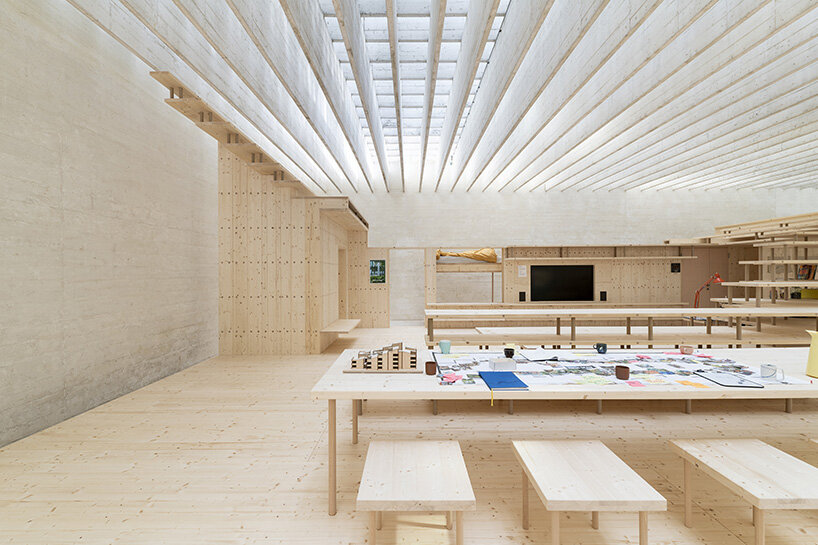 visitors to venice are able to walk through and explore a cross-section of a prototype co-housing project that includes communal and semi-private areas brought to life through scenographies made by film director paul jackman and scenographer nina bjerch-andresen. initiating a conversation about the social and political aspects of co-living, the exhibition also presents a commissioned video by artist anna ihle, who is a resident of vindmøllebakken. a comprehensive presentation of the project, with resident interviews, videos and documentation, as well as other background material, is available to view online.
'with our co-housing project in the biennale, we want to show how the common space between the private dwellings offers possibilities for sharing and social activities — and has a rich architectural potential,' explains siv helene stangeland and reinhard kropf. read our full interview with the architects below, with the duo discussing the ways the installation engages with the architecture of the pavilion and the role that architects have to play in the future creation of our communities and societies.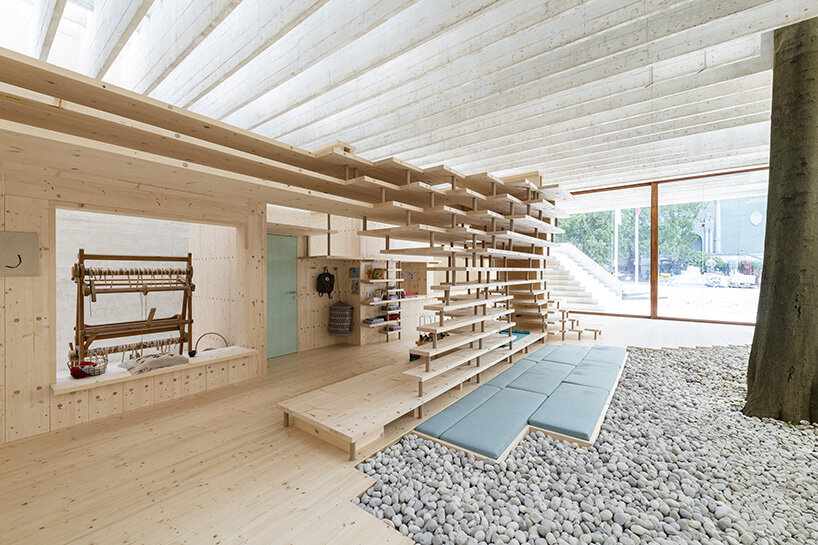 designboom (DB): what is the focus of the nordic pavilion's exhibition
?
siv helene stangeland (SHS) and reinhard kropf (RK): we are relating to the theme of the biennale — 'how will we live together?' — by presenting a full-scale section of an experimental co-housing project built in solid timber. it is based on the scandinavian model of housing cooperatives where inhabitants own the property together, intending to build a community. it is also based on a co-housing project by helen & hard completed in 2018 called 'vindmøllebakken bofelleskap', alongside interviews with 12 of the current inhabitants. they were asked if and what they could imagine to share even more with their neighbors than they do now. with this as a background, we have explored new spatial arrangements, participatory processes and self-build systems in timber to support and serve future forms of co-living where sharing is central to creating a more sustainable way of living.