Alright, I just have to share this super easy, quick, and versatile sauce. Instead of honey, I just use stevia and/or luo han guo (monkfruit) to sweeten this sauce (making it sugar-free!).
I then use with everything from scrambled eggs to chicken strips – or even as a veggie dip.
It's so delicious that all my house guests want it with their eggs too, so I've had to double my usual recipe!
Just 5 ingredients – it's simple, but THAT GOOD.
Herby Honey Mustard Sauce
1 and 1/2 cups cold-pressed oil Mayonnaise*
1/4 cup mustard
1/4 cup fresh herbs or 4 tsp dry (basil, cilantro, thyme, oregano, chives, parsley, etc.)
1/2 tsp salt (or to taste)
1/8 tsp stevia powder – you can also use Monkfruit or Luo Han Guo as a sweetener
*If you can't use my recipe to make your own mayo, then find a store brand made from a cold-pressed healthy oil. Avocado, olive oil, sunflower etc are good. Avoid canola or soybean oil, and check that it doesn't contain sugar (or else this recipe won't be sugar-free!).
Note: If you really dislike the aftertaste of stevia or monkfruit, you can easily mask it by adding 1 tsp of honey, or agave, or coconut sugar. Of course, it won't be sugar-free, but it's still far less sugar than usual.
If you try this recipe, give me a shout below! I'd love to hear what you decide to pair this sauce with. And as always if you'd like to share your pictures with us, please email us at [email protected]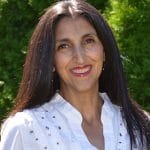 Jini Patel Thompson is an internationally recognized expert on natural healing for digestive diseases. She healed herself from widespread Crohn's Disease and has remained drug and surgery-free for over 20 years. Jini has appeared on numerous podcast, TV, and radio shows throughout the U.S., U.K., Canada, and Australia, giving people hope and vision for how they can heal their Colitis, Crohn's, Diverticulitis and Irritable Bowel Syndrome (IBS), using entirely natural methods. Her books on natural healing for digestive diseases have sold worldwide in over 80 countries.