The final select yearling sale of the season, the Inglis Australian Easter Yearling Sale, has rounded out a remarkable surge in demand for bloodstock from buyers in 2021, with the highest-priced filly ever sold by I Am Invincible  changing hands for AU$1.95 million (US$1,494,573) on a record-breaking second day April 7 at Riverside Stables in Sydney.
There were 11 million-dollar lots sold on day one and another 11 reached the seven-figure mark Wednesday, with the 22 lots comprising 15 colts and seven fillies. Those results helped Inglis better the record gross figure on a single day of trade at a sale in the Southern Hemisphere, which it set Tuesday.
The leading buyer was Tony Fung, who bought eight yearlings for AU$7.02 million, but the spread of buyers was diverse, with Hawkes Racing (eight lots for AU$5.4 million) and Tom Magnier (five for AU$5.1 million) spending big, while Gai Waterhouse and Adrian Bott and Kestrel Thoroughbreds took home 11 yearlings, the most of any individual entity, for AU$3.31 million.
The aggregate of AU$132,160,000 ($101,215,981) was up 8% on the 2019 auction, AU$65.07 million ($49,872,745) of sales occurring in the second session, while the average of AU$371,236 ($284,315) climbed 4% when comparing the same two sales. The median held at AU$260,000 ($214,605), again underlining the trend of buyers being prepared to pay more for the horses in the top half of the market. 
Arguably it is Inglis' best Easter Sale since 2008 when Bob Ingham, Sheikh Mohammed, Nathan Tinkler, and Shadwell's Angus Gold spent AU$50 million between them in a colossal spend which preceded the looming global financial crisis. 
"We wanted to try and put together what was fair and effectively a lucrative market for vendors and buyers to operate in, and it's hard to escape the conclusion at the end of the sale that that has happened. It feels very healthy," Inglis general manager of bloodstock sales and marketing Sebastian Hutch said.
"Demand for stock at stages through the past two days has been effectively insatiable; I think it's a reason for a lot of vendors to leave here very happy indeed. 
"Buyers seem delighted. The variety of buyers involved is very positive. It's one of the major positives of the sale. It's hard to be anything other than delighted."
At the four Australian select yearling sales held this year—the Magic Millions on the Gold Coast, Inglis' Classic, Premier, and Easter sales—more than AU$461 million has been spent. This compares to just over AU$395 million spent at the same sales in 2019.
Mills Makes Move for 'Collector's Item'

The highest-priced yearling sold on day two of the Easter Sale, a filly who is from "one of the best families in the stud book" and a half sister to a string of valuable stakes-performed horses, was bought by Melbourne-based agent Sheamus Mills.
Day two's top lot, the Coolmore-consigned I Am Invincible filly (Lot 340), is the eighth foal out of Hips Don't Lie , a winner of three stakes races at 2, and the fourth yearling out of the mare to make seven figures. The mare was bought by Colm Santry Bloodstock at the 2009 Magic Millions Gold Coast National Broodmare Sale for AU$770,000.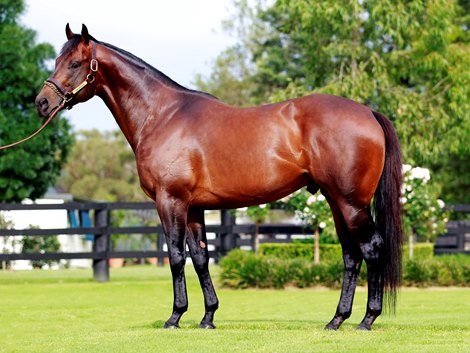 I Am Invincible at Yarraman Park Stud
Since then, she has gone on to produce stakes winners Ennis Hill and Lake Geneva, the stakes-placed Memphis Rock, and this season's Inglis Nursery-winning colt Acrobat, a one-time favorite for the Longines Golden Slipper (G1) prior to injury which curtailed his autumn preparation. 
Mills bought the filly for Heath Newton and Anthony Roberts who, along with the agent, race this season's Mick Price- and Mick Kent Jr.-trained Schweppes Thousand Guineas (G1) winner Odeum. The pair will also train this filly.
"I'm shaking like a leaf, to be honest, but we really, really wanted her," Mills said in the aftermath of the enthralling bidding duel. 
"I didn't think I'd have to pay that for her, but I did think she was the best horse here with the best pedigree. She's a 10 or 15-year keep and, as I said, I didn't think I'd have to pay that for her, but whoever was underbidder wouldn't drop off."
Golden Slipper-winning trainers Michael and Richard Freedman were the underbidders and it wouldn't have taken much more for Mills to relent. 
"I think it's the best family in the stud book, and I think many people would still rate Acrobat as the best 2-year-old we saw," said Mills, who also went to AU$1.5 million ($1,029,934) for a Written Tycoon  filly now named Queen Of The Green at the 2020 Magic Millions Gold Coast Sale for the same connections. 
"Obviously, we're hoping he will get back to the races and, family wise, it's as deep as it gets. She's by the best stallion here who gets unbelievable fillies and, as I say, she's a long-term prospect. 
"You have to put some value on these things because they can breed for you. She's not going to end up as a gelding. When we are selling foals two, three, four, and five out of her, hopefully the dollars will make some sense."
An emotional James Bester, who bred the filly with his wife Bridget, said: "Oh wow, I've cried for losing horses before but never for selling one for AU$2 million (AU$1.95 million). 
"I bought her mother for NZ$200,000 ($139,060) in New Zealand in the sale ring (as a yearling), and she's just been an absolute gold mine and an absolutely wonderful broodmare."
Bester, understandably, was glowing in his appraisal of the star filly, labeling her "the best yearling filly I have seen in 10 years."
I Am Invincible was the leading sire by aggregate, with 41 yearlings changing hands for a total of AU$25,235,000 ($19,292,400) at an average of AU$615,488 ($470,548). He also had eight million dollar lots sell over the two days, five of them fillies.
"We got two of them (I Am Invincible fillies) for the same ownership up at the Gold Coast. I didn't have to pay that sort of money (AU$1.95 million), but the market has reacted to (their success)," Mills said.
"Perhaps early in the season they were selling at good value and it certainly looks like it now. He seems to be the stallion of the sale and on my shortlist of what ended up to be about 14 fillies, I think there were about six I Am Invincibles on it."