May I be so bold as to say that there is NO WAY you can heal completely (long-term) from a chronic illness without going into the physical and energetic (spiritual, emotional) places where past trauma is stored? Okay, YES, I am going to say that – and have been saying it for years!
If you have not already combed through the mind/body/spirit healing section of my blog, I recommend you do so. It's chock full of valuable information to help facilitate the spiritual and emotional aspects of your healing journey, which are too often overlooked. Root-level, long-term healing comes from healing ALL levels of the self. We must go into the emotional and spiritual aspects or messages of our dis-ease.
And now, here are some of my FAVORITE mind/body healing therapies and meditation techniques…
---
Original post May 2017. Most recently updated September 2020.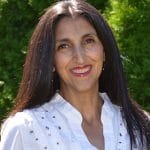 Jini Patel Thompson is an internationally recognized expert on natural healing for digestive diseases. She healed herself from widespread Crohn's Disease and has remained drug and surgery-free for over 20 years. Jini has appeared on numerous podcast, TV, and radio shows throughout the U.S., U.K., Canada, and Australia, giving people hope and vision for how they can heal their Colitis, Crohn's, Diverticulitis and Irritable Bowel Syndrome (IBS), using entirely natural methods. Her books on natural healing for digestive diseases have sold worldwide in over 80 countries.