Times have changed somewhat since the world's oldest bloodstock agency was founded, so Bert Kerr was happy to laugh along with the well-worn proverb about dogs and tricks as he claimed the top lot at the opening session of the Goffs February Sale.
Form horses proved the principal attractions to the virtual marketplace and Mehmas gelding Drish Venture stood out the most, with two recent wins at Dundalk vaulting him to a final price of €50,000 (US$60,201) when offered through Baroda Stud. 
The successful bidder's uncle and namesake founded Kerr & Co back in 1920, meaning that last year was not only its centenary but one in which they could lay claim to a Melbourne Cup (G1) winner, having bought Twilight Payment at another Goffs auction.
"It was our first attempt online and it is the future, I accept all that," said Kerr good-naturedly.
"It's a nice way to start this new year, particularly as we've bought a horse online. It shows we're not standing still, anyway."
Kerr said he had been keeping a trained eye on the 3-year-old Drish Venture, who is from the close family of top sprinter Needwood Blade.
"He's for an existing client of ours in Central Europe, and I had been looking for a hardy sprinting type, so we were delighted to get him.
"He was third last Friday at Dundalk, up against older horses. He was up in front and he just battled on to keep a position, so that confirmed that he could do a job for us."
The top four prices on the day were all from the smaller selection of horses in training likely to continue their careers on the track elsewhere.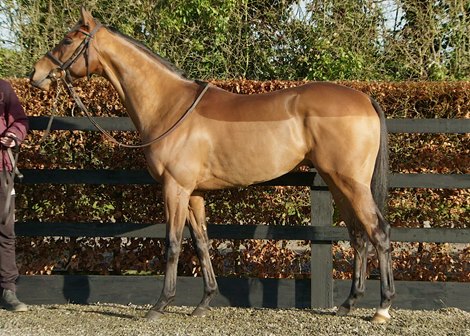 Razdan at the Goffs February Sale
Chris Timmons picked up the second top lot, the Aga Khan's lightly raced Zoffany gelding Razdan for €32,000 ($38,529). He had also shown recent promise in just being touched off in a maiden at Dundalk last month for Michael Halford. A third to have run well at the same track lately, Ginato, moved from Kevin Prendergast to Roger Fell for €25,000 ($30,101).
Condon Stakes Aclaim

Ken Condon's impressive 2020 campaign even extended to results in the sales ring and the Classic-winning trainer restocked with a 2-year-old for the coming season when going to €18,000 ($21,672) for an Aclaim colt.
Consigned by Mount Prospect Stud, the colt is the first foal of Falco mare M'as Tu Vu, whose half sister Marie Vison is the dam of Qipco Irish Champion Stakes (G1) and Prix du Jockey Club (G1) winner The Grey Gatsby.
"He's medium-sized, seemed to have a good action, and is a good bodied colt," said Condon. "The sire's a first-season sire but he seemed to have a solid pedigree behind him so hopefully. he could be lucky for us. He looked like he might come to hand sooner rather than later."
It was the first time Condon had purchased one under his own name online, although his experience as a vendor has been fruitful.

"One of our clients, David Kelly, has bought online, and we sold one at Tattersalls in August, a horses-in-training sale, and that was a good concept at the time.
"A filly called Inner Beauty was sold to the States (for £100,000) to continue her career. She was a maiden winner at 2 who ran well in a couple of stakes races. None of it's ideal, but it's better than the alternative."
With Condon's group 1 star Romanised now beginning life at Haras de Bouquetot, his attention turns towards a smart crop of last year's juveniles headed by Sky Bet Lowther Stakes (G2) winner and dual group 1-placed Miss Amulet.
"They won't start fast work until March but the likes of Thunder Beauty, Miss Amulet, Teresa Mendoza, Laws of Indices, hopefully everything at the moment is the way we'd want.
"It was one of those years that we were lucky that there were a few that had a bit of ability; they all helped each other along I suppose. We just have to do it all over again this year; you don't know what the year holds but there are some nice 2-year-olds, and we'd be optimistic that a few can put their hands up."
The enthusiasm of the auctioneers could not be faulted, particularly as this form of virtual sale only provides the sight of horses being led around in videos of various wintry farmscapes as an accompaniment to their exhortations.
"We're off and running in the online world," declared Nick Nugent with excitement to a dark and empty auditorium as the first bid was registered for one of the 2-year-olds who went under the hammer, but he and his Goffs colleagues had to work hard to shift many of them.
Condon's Aclaim colt was the most expensive of the juveniles to change hands, just ahead of Railstown Stud's €17,500 ($21,070) son of Footstepsinthesand. The first progeny of dual Irish winner Art Scene, he was bought by Imhamed Nagem.
In all, 44 out of 82 lots offered sold at a clearance rate of 54% and an aggregate of €379,700 ($457,166). This left the average standing at €8,630 ($10,391) and the median at €5,500 ($6,622) with some well-related breeding stock set to be offered from noon in Wednesday's concluding session.