from now through october 31, 2021, the clark institute mounts a presentation dedicated to the work of sculptors claude and françois-xavier lalanne — the first in more than forty years by an american art museum. the exhibition 'nature transformed' takes over the tadao ando-designed 'michael conforti' pavilion at the clark and sheds a fresh perspective on the innovative french artists, whose imaginative sculptures have long delighted audiences and collectors. 'both artists capture something of the innocence of the childhood imagination – a view of the world where anything is possible, and everything turns into romping fun,' kathleen morris, the clark's marx director of exhibitions and curator of decorative arts, tells designboom in an interview. 'the inherent joy of life expressed in their works is irresistible. it's as simple – and complex – as that.'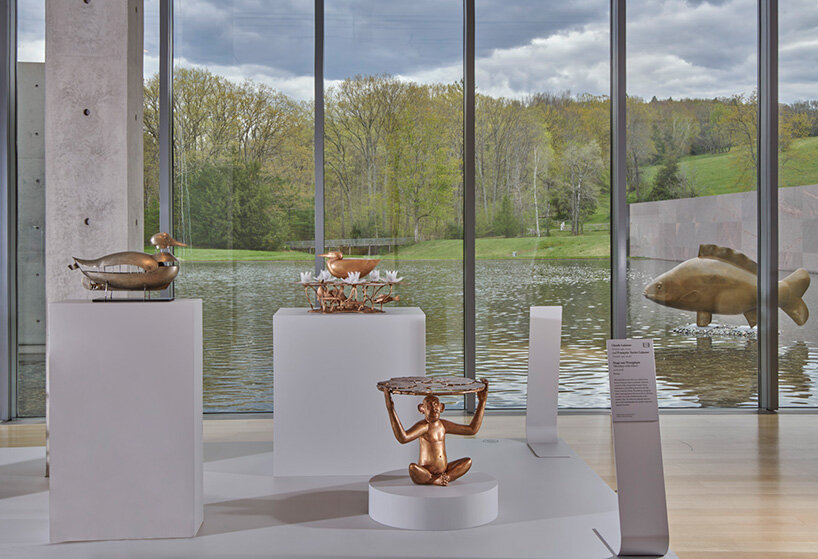 installation view of claude & françois-xavier lalanne: nature transformed at the clark art institute
all images by thomas clark
over the course of their careers, the married creative couple worked and exhibited together, often under the joint name 'les lalanne'. although they rarely collaborated on objects, they shared an enduring fascination with the natural world. 'their shared interest in taking inspiration from nature and investing their objects with humor and surprise means that their creations feel like they belong together,' morris continues. the artists repeatedly drew from flora and fauna and morphed these natural forms into something strange and new, beginning with their earliest exhibition in 1964, zoophites — a reference to objects with a mixture of animal and plant characteristics, the works by claude lalanne saw familiar plants and animals transform into lyrical and sometimes surreal creations, while françois-xavier turned his fascination with the mysterious inner life of animals into abstracted and refined sculptural forms that often concealed a practical function.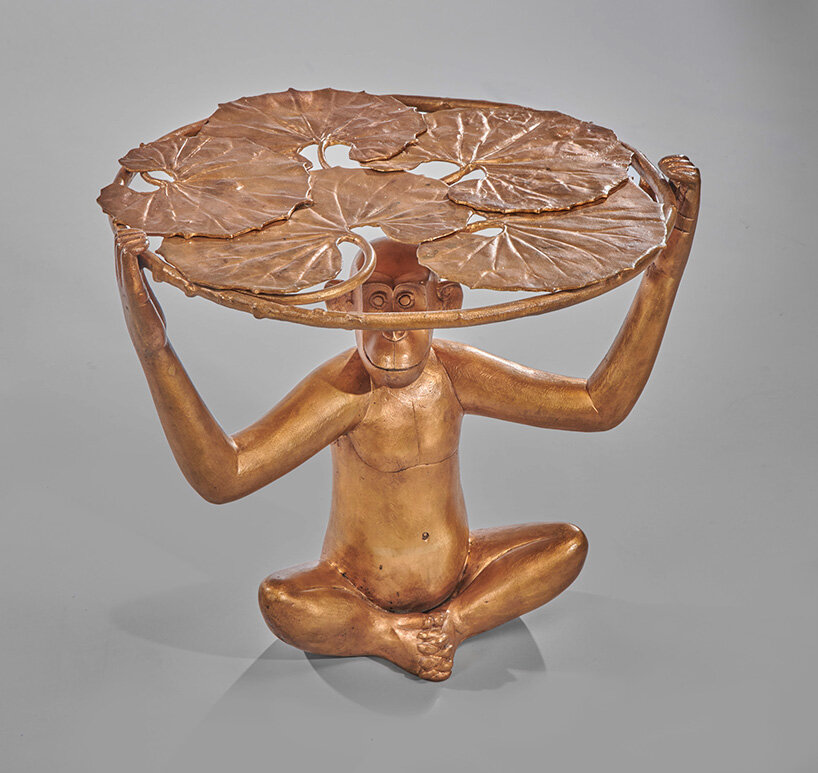 claude lalanne and françois-xavier lalanne, singe aux nénuphars (monkey with lilies), 2007/2008
bronze | 19 3/4 x 21 1/2 in. | brian mccarthy and daniel sager
© 2020 artists rights society (ARS), new york / ADAGP, paris
presented in the clark's 'michael conforti' pavilion and in additional outdoor locations, claude & françois-xavier lalanne: nature transformed marks the first museum presentation of the artists' work since the death of claude lalanne in 2019. the exhibition features an equal number of objects by each artist from across their long careers, demonstrating the power of their artistic imagination, their impressive command of technique, and their enduring visual appeal. the works include sculpture and furniture by both artists, as well as a selection of claude lalanne's wildly inventive flatware and jewelry.
designboom spoke with the exhibition's curator, kathleen morris, about the duo's symbiotic and sympathetic working practices, and the delightful and surprising encounters that await visitors to the clark.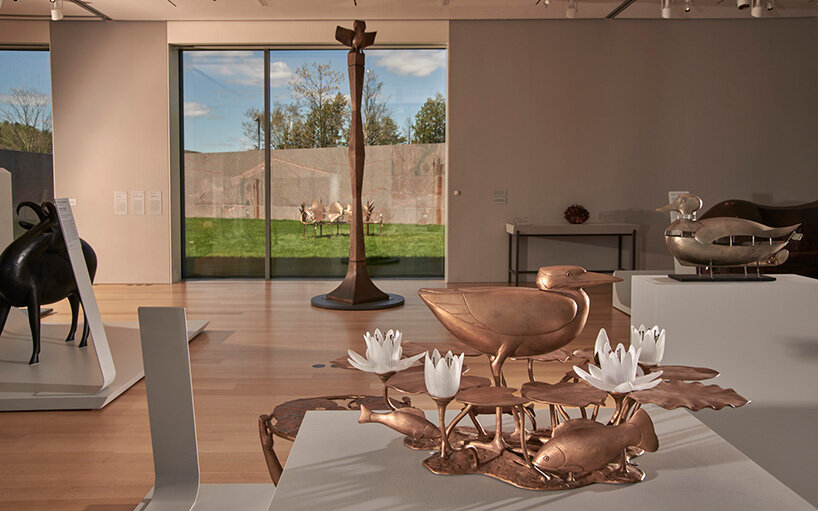 designboom (DB): what does the exhibition reveal about about claude and françois-xavier lalanne's life and work relationship, as well as individual artistic pursuits?
kathleen morris (KM): the objects in the exhibition were selected to provide an overview of the major thematic preoccupations of each artist, to show works that span each of their careers from early to late, to show unique examples as well as works that were made in small editions, and to showcase the specific techniques each artist perfected. I think the exhibition also makes clear how symbiotic and sympathetic their working practices were. while they seldom collaborated, their shared interest in taking inspiration from nature and investing their objects with humor and surprise means that their creations feel like they belong together.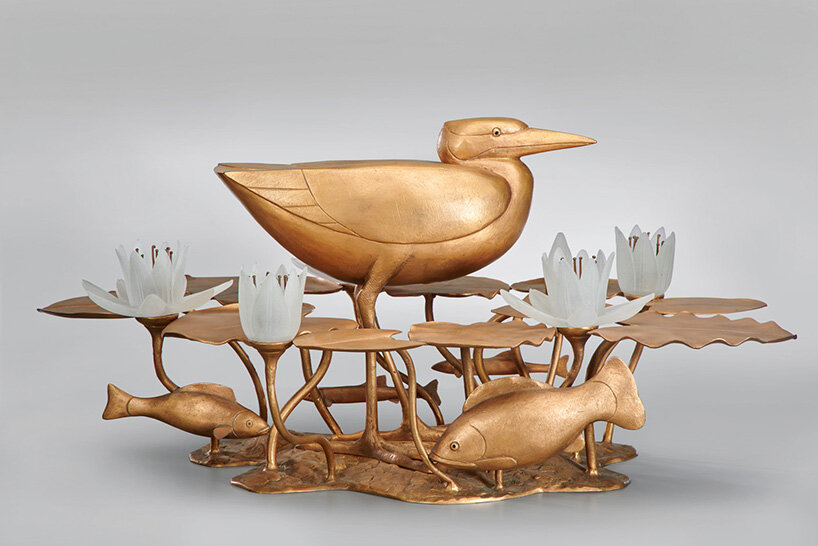 françois-xavier lalanne, histoires naturelles, héron (natural histories, heron), 2006/2010
bronze, glass | 13 x 29 15/16 x 18 7/8 in. | private collection
© 2020 artists rights society (ARS), new york / ADAGP, paris
KM (continued): the one object in the exhibition that was a collaboration between claude and françois-xavier epitomizes this – the base of singe aux nénuphars is in the form of a monkey, sculpted by françois-xavier with his usual eye for simplicity and tongue-in-cheek humor, while the tabletop was formed by claude, based on natural forms — a vine and waterlily leaves — that she transmogrified to metal in such a way that the detail of the original organic material is still evident. the two components feel natural together, while each expresses the artistic style of its maker.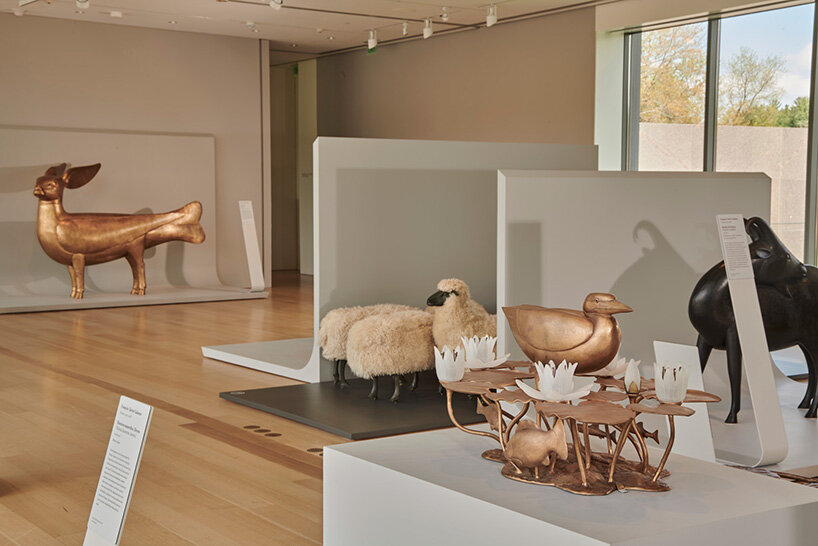 DB: in developing nature transformed, what did you learn about their artistic partnership and shared vision that you might not have previously known? did anything surprise you?
KM: I learned a lot about these artists as I worked on this exhibition – while I was familiar with their work, I had never dug deep into the topic before. one thing that really surprised me was the complexity of this issue of their joint and individual artistic identities. they adopted a single name to exhibit under, 'les lalanne,' and they nearly always exhibited together. they did not make distinctions between the things he made and those she made, although neither did they pretend that they were collaborating on objects – which they seldom did. if a journalist or critic probed, they could easily discover which artist made what, but many writers perhaps did not think to ask, and especially early in their career one often finds articles in which the authors confuse which artist made what or imply that they always collaborated. as late as 1985, a major sculpture by françois-xavier was catalogued and sold by sotheby's as a work by claude, for example. I think it is so interesting that this clearly did not concern them at all. this intertwining of public identification, even while each had a very distinctive style and practice, makes them highly unusual.