Necessity is the mother of invention, so the saying goes, and the additional Tattersalls March Sale fixture certainly served its purpose in providing a platform to trade in a traditional live auction format, something that Britain and Ireland have gone without in recent months on account of COVID-19 restrictions.
The story of a busy session of selling was told by a clearance rate of 89% as 109 of 123 offered lots found a buyer. Those transactions generated turnover of 1,273,300 guineas (US$515,528), at an average of 11,682 guineas (US$27,133) and a median price of 8,000 guineas (US$8,735).
The highest price of the day was brought by the Juddmonte Farms-consigned Bugle Major , who went the way of Richard Hughes at 90,000 guineas.
The 6-year-old son of Mizzen Mast   has some classy form to his name, including a two-length defeat of Intellogent at Deauville in January, while he was last seen finishing runner-up to Magny Cours , who subsequently finished third to Mystic Guide  in the Dubai World Cup Sponsored by Emirates Airline (G1).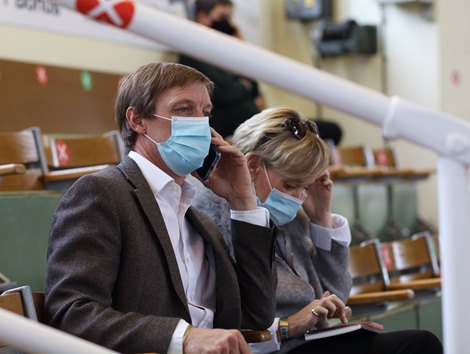 Richard Hughes at the Tattersalls March Sale
"I wasn't too happy when Magny Cours ran so well as we had Bugle Major earmarked before that, but that probably put another 20 grand on his price!" said Hughes with a wry smile. "He's been bought for some existing owners who want a Saturday horse.
"We'd discussed going to the breeze-ups, but to get a horse at those sales who might be rated 100 will probably cost an awful lot of money, and there's no guarantees. Then we found him and he looks like a Saturday horse ready for the lads to have some fun with."
Although he is now 6, Bugle Major, a half brother to the stakes-winning Seismic Wave  and group 1-placed Teletext , ran just eight times for Pascal Bary, winning three races and achieving a peak Racing Post Rating of 100.
Hughes added: "He's had his issues, there's no doubt about it, but he's 6 now and seems to be over them. All the hard work has been done for us! You've seen a lot of horses lately who've been winning group 1s at 7 and 8 or older. He's been well minded to get to this stage of his career."
Attracted Bound for Saudi Arabia
Another lot with recent form to his name was Attracted, who was cataloged as the winner of one race but had doubled his tally for Joe Tuite since publication with a wide-margin success at Wolverhampton.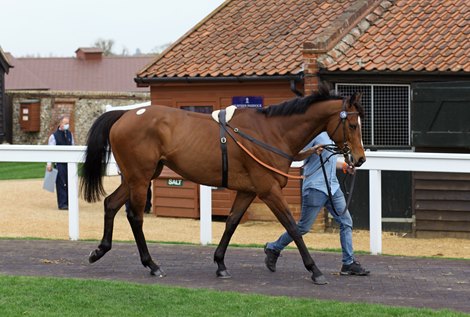 Attracted is led to the sales ring at the Tattersalls March Sale
That upwardly mobile profile prompted Reda Al-Khalaf to go to 82,000 guineas to secure the 4-year-old son of New Approach for a campaign in Saudi Arabia.
"He has been bought for owner Mr. Al Turaif," said Al-Khalaf speaking from Saudi Arabia. "He's been bought for our stable and will be aimed at bigger races in Saudi.
"Mr. Al Turaif liked the fact that the horse is by New Approach, and he's a lightly raced 4-year-old so there should be more to come. The name is good too—Mr. Al Turaif is attracted to Attracted!"
Attracted, who is out of the group 3-placed Raven's Pass mare Interesting, has something of an up-and-down sales history, having been signed for by Grove Stud at 120,000 guineas (US$170,466) at the foal sales before missing a handful of appointments at the yearling and breeze-up sales.
He was offered at the virtual February Sale earlier this year shortly before his winning run began, but was bought back by his vendor at just 5,000 guineas (US$7,163).
Williams Takes the Opulent Approach

The third-top lot, the useful Huraiz, will be remaining in Newmarket after local trainer Stuart Williams went to 60,000 guineas for the Shadwell-bred son of Sepoy on behalf of Opulence Thoroughbreds.
The 4-year-old won twice for Mark Johnston at 2, when he was also third in the Sun Racing Sirenia Stakes (G3), but has not reached the winner's enclosure since August 2019. Williams is hoping a stable switch can help Huraiz get his head back in front.
"He's been bought for a syndicate called Opulence Thoroughbreds who have four horses with me already," said Williams. "We thought he was a nice horse to take to some of those Saturday meetings. He's shown some classy form already and has been running well, but we're hoping a change of scenery might perk him up a little.
"He's had a month off now so we'll aim to crack on with him. I haven't spoken to Mark (Johnston) about the horse but Shadwell gave me all the information; they're very good and up front like that. We bought one for the same syndicate here last year called Album—he's done quite well and won three races for us. If this horse could do the same we'd be happy."
Album also made an appearance in the Park Paddocks ring later in the day when selling to Gus Gordon for 22,000gns.
Mahony Glad to be Back in Business

At the close of trade of the March Sale, Tattersalls' chairman Edmond Mahony commented: "The Tattersalls March Sale was added to our 2021 sales calendar in response to the COVID-19-related disruption to the February Sale, and it has generated solid international trade with a good crowd in attendance as well as the now customary prolific amount of live internet bidding.
"It has been great to have been able to host a live sale again at Park Paddocks, and we are looking forward to welcoming registered participants to both the Tattersalls Craven and Guineas Breeze-Up Sales in the coming weeks, both of which will be conducted with similar COVID-19 protocols in place."