perched on the lakeside of préverenges in switzerland is a 49 sqm wooden cabin designed by LOCALARCHITECTURE. commissioned by the lausanne ornithology club, the recently completed structure is called the 'bird island house' as it faces onto 'bird island', an artificial biotope that's situated within one of the main stopping points for birds flying north from africa in the summer.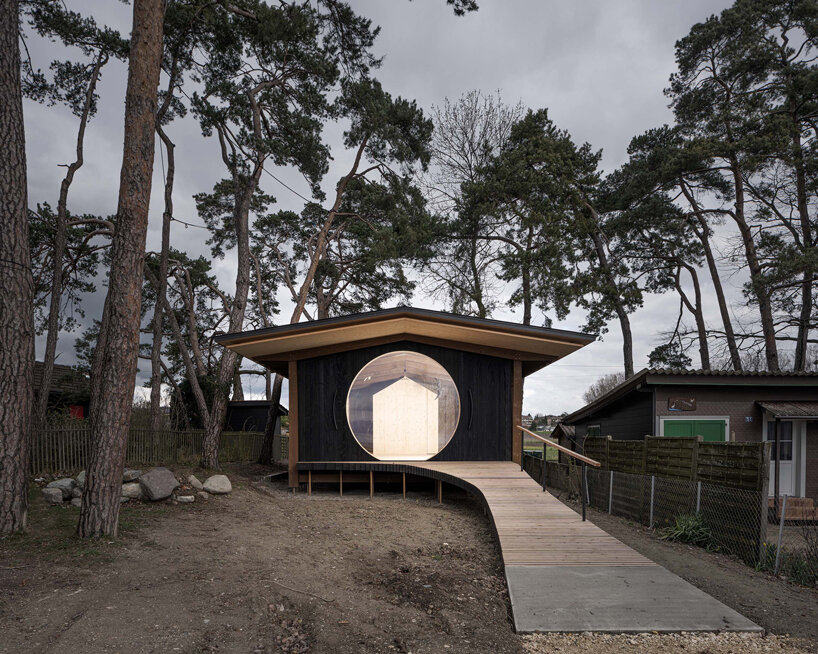 image © matthieu gafsou / LOCALARCHITECTURE (also main image)
the purpose of bird island house is to provide a place where the local public and the region's schoolchildren can learn about issues surrounding nature protection. the modest space intends to raise awareness of climate change and the impact of human activities on the loss of stopover sites for migratory wader birds.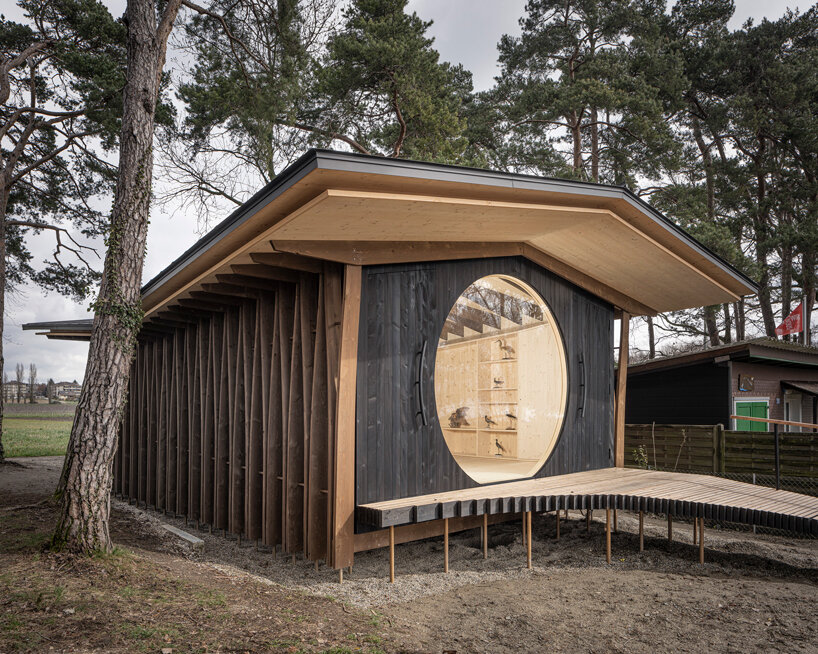 image © matthieu gafsou / LOCALARCHITECTURE
from the glue-free timber structure to the slim metal footings, LOCALARCHITECTURE's design takes inspiration from nature, and more specifically, the elegance of the bird world. the structural skeleton is made up of tweezer-shaped timber elements, which were cut digitally with a CNC machine and assembled without glue, give the building its delicate, nest-like character. the exposed structure continues inside and is accompanied by light-colored natural pine that covers the floor, walls, and ceiling, creating a warm and welcoming atmosphere. the bird island house is topped with a CLT and black zinc-clad roof with deep overhangs.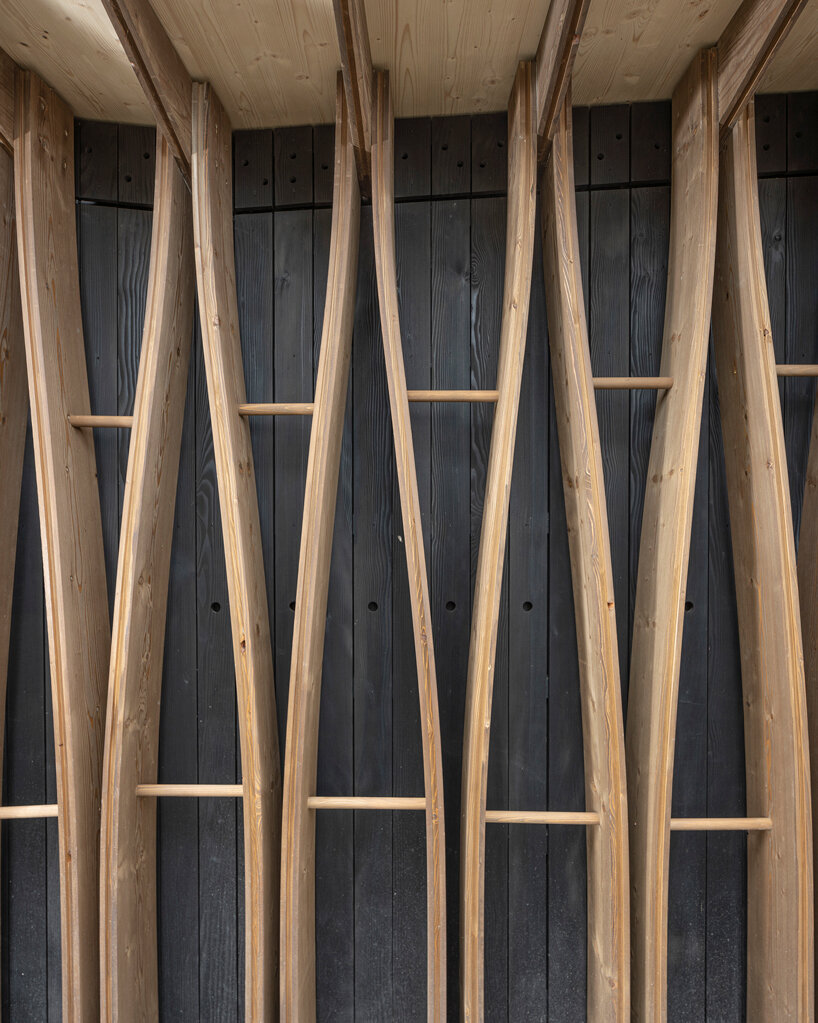 image © matthieu gafsou / LOCALARCHITECTURE
inside, the simple floor plan is organized as a house within a house, with the kitchen and toilets contained in a solid core in the center of the space. circular windows puncture the short elevations, the larger of which faces towards the water like a camera obscura or giant nesting box. described by LOCALARCHITECTURE as a 'glass eye', the sizeable window makes the new cabin recognizable to visitors while offering a glimpse of what's inside.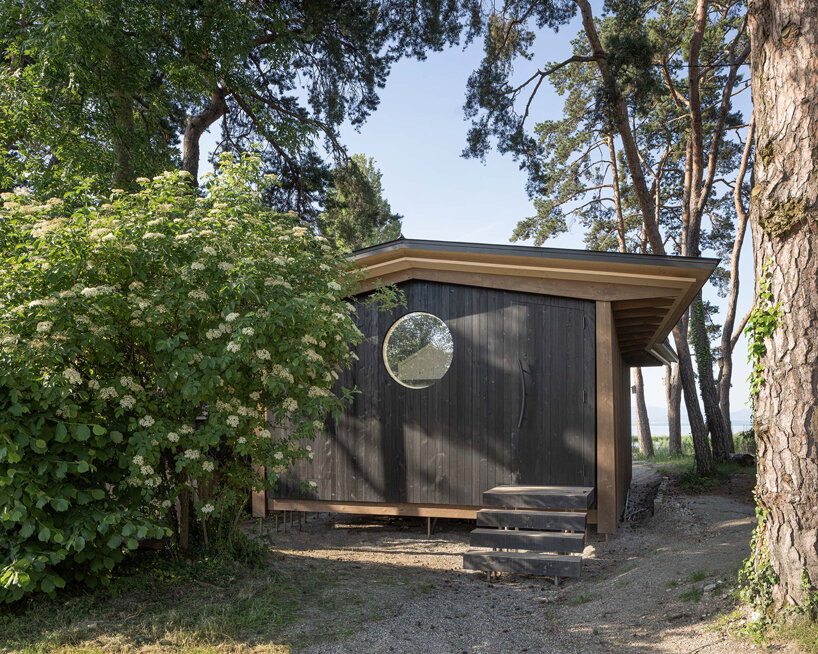 image © matthieu gafsou / LOCALARCHITECTURE
while taking inspiration from nature, LOCALARCHITECTURE was also careful to tread lightly on the surroundings. the roof is designed to blend in with the old scots pine trees on the site and the structure also integrates bat roosting boxes, making the building double as an animal habitat. furthermore, the dark shade of the façade evokes the subtle tones of the birds' plumage but also harmonizes with the tonalities of the scots pines and the little chalets already existing along the lakeside.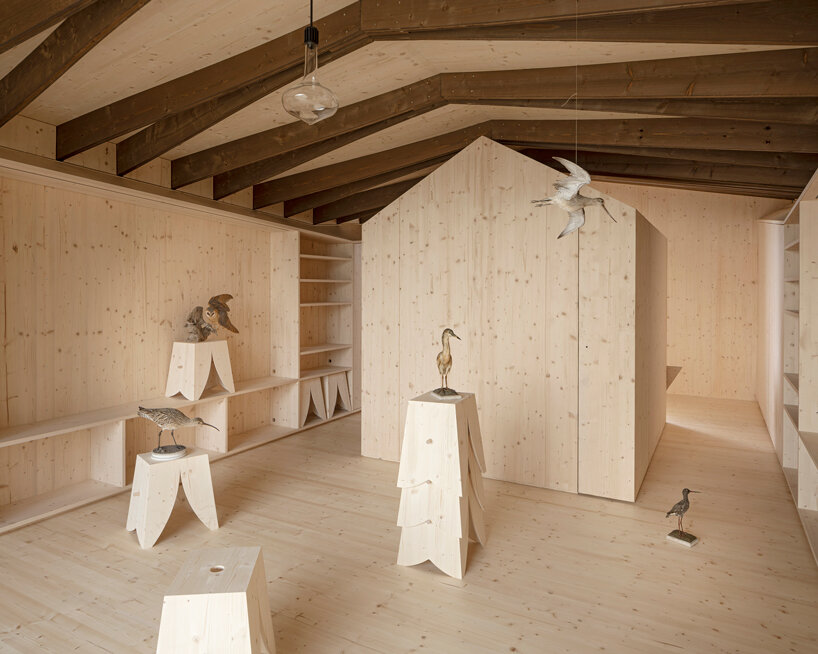 image © matthieu gafsou / LOCALARCHITECTURE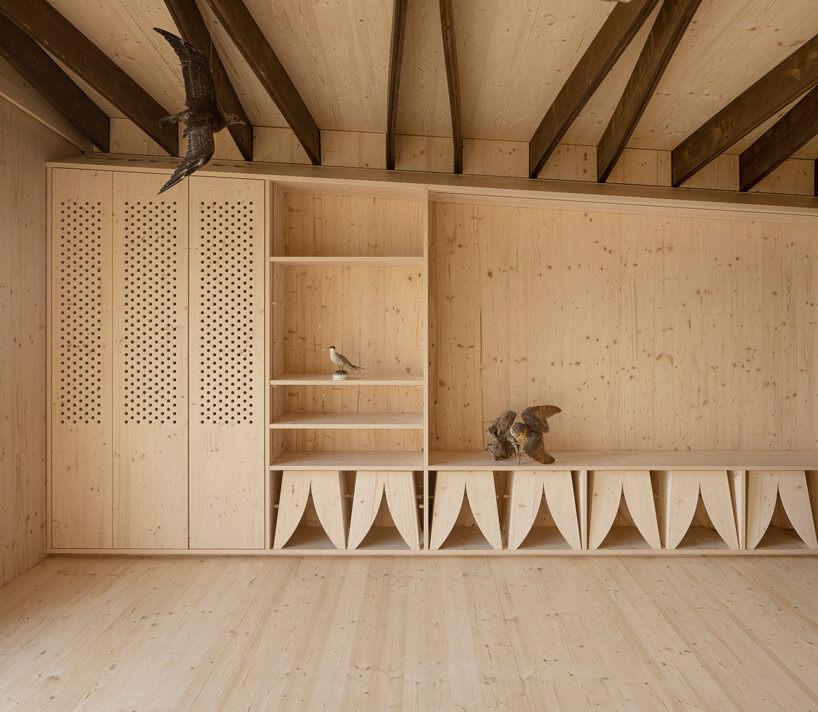 image © matthieu gafsou / LOCALARCHITECTURE