My brother just told me about this fantastic interview series (downloads are free!) where leaders in self-growth and spirituality share their innermost challenges. Some of my favorite quotes from speakers thus far are:
"I'm an asshole who is just trying his utmost to be loving, doing the very best imitation of an absolutely loving man I can possibly do."

"The reason we don't want to judge someone is that then we're inviting the least evolved part of them to dance with the least evolved  part of us and it's just never pretty."

"We are drawn into partnership with someone whose needs we cannot meet. We actually have to grow ourselves in order to meet those needs."
The series is called: Teaching What We Need to Learn and the concept stems from the principle that there's a field of awareness beyond projection – either positive or negative – and beyond comparison as well. This field is where we actually live, love, heal and grow.
The more honest and open teachers are about how we live, and especially about when our lives are stressful and challenging, the greater opportunity we have to support our students.
Such openness begins and ends with emotional safety. This series is all about that, and aims to inspire it in listeners as well. Our ultimate hope is that engaged listeners turn into active way-showers, modeling safe, skillful transparency in their own personal lives.
Another appeal of the series is the simple sweetness of meeting your favorite teachers at their most human, hearing not just about their past trials and triumphs, but also about where they're called to stretch right now. As you may gather, this often allows for lots of humor.
Tuning into the series is also a wonderful way to find new teachers that you resonate with, since altogether nearly forty will take part. They come from the realms of spirituality, psychotherapy, relationships, meditation, nonduality, yoga, and social activism. The participant list includes:
Don Miguel Ruiz, Byron Katie, Harville Hendrix, Daniel Siegel, Terry Patten, Tara Brach, David Richo, Seane Corn, Peter Fenner, Thomas Hubl, Reggie Ray, Ram Dass and Lama Surya Das.
The series began on May 14th and continues through the summer. You can stream and/or download each interview from the time of its release until the series concludes.
To learn more, hear a preview, and listen to or download the interviews at no charge, visit: Teaching What We Need To Learn
I really like these points from Reggie Ray (Buddhist teacher and scholar) as they are likely directly applicable to your Healing Journey:
"By not connecting the soma, the primary experience of life, we have actually lost the ability to even feel what the body knows."

"You develop a level of mindfulness through being sick that ordinary people don't have and it becomes incredibly refined."

"With deep depression you see that the usual way in which you spend your time and the usual kind of pursuits that everybody engages in are fundamentally meaningless. They don't deliver what we are hoping they will deliver."
Remember, with excellent quality content like this, you don't have to listen to them all at once, you can download them and listen at your leisure – so I encourage you to take advantage of this excellent free resource for the mind/body healing portion of your Healing Journey!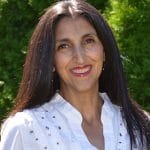 Jini Patel Thompson is an internationally recognized expert on natural healing for digestive diseases. She healed herself from widespread Crohn's Disease and has remained drug and surgery-free for over 20 years. Jini has appeared on numerous podcast, TV, and radio shows throughout the U.S., U.K., Canada, and Australia, giving people hope and vision for how they can heal their Colitis, Crohn's, Diverticulitis and Irritable Bowel Syndrome (IBS), using entirely natural methods. Her books on natural healing for digestive diseases have sold worldwide in over 80 countries.