We've just had a big, fresh snowfall here in Vancouver, Canada and the kids have been out sledding, making snowmen, and thoroughly enjoying themselves.
Then this morning, my daughter Zara comes in with a big hunk of snow to snack on – which is exactly what I used to do as a child!
However, she took it one step further and turned her hunk of snow into a… natural slurpee!! Or slushie, or kids Margarita – whatever you want to call it.
Zara used half a teaspoon of the new Organic Blackcurrant Flavor Concentrate we are now carrying in the Shoppe and one small scoop of Stevia (about 1/16 tsp) et voila! Instant slurpee and yes, it tastes fantastic.
Knowing my kids, I'd better order in a few more bottles pronto… unless the snow melts…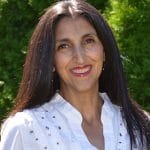 Jini Patel Thompson is an internationally recognized expert on natural healing for digestive diseases. She healed herself from widespread Crohn's Disease and has remained drug and surgery-free for over 20 years. Jini has appeared on numerous podcast, TV, and radio shows throughout the U.S., U.K., Canada, and Australia, giving people hope and vision for how they can heal their Colitis, Crohn's, Diverticulitis and Irritable Bowel Syndrome (IBS), using entirely natural methods. Her books on natural healing for digestive diseases have sold worldwide in over 80 countries.