Reid Kimball has finally finished and released his film on alternative healing methods for colitis and Crohn's that many of us have been waiting for!
I have watched the full documentary and it is just GREAT. It will educate you, give you hope, encourage you on your journey and hopefully give you new ideas to try. I like the way the film provides a number of different options through following the experiments and Healing Journeys of a few people with Crohn's or colitis; so you get to know their stories.
The preview is free and you can purchase the full-length documentary (1 hour & 10 minutes) for only $10 and watch it immediately online.
Even the preview is inspirational! Enjoy and share around with anyone you know who is suffering from colitis or Crohn's.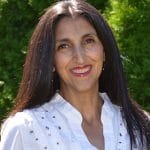 Jini Patel Thompson is an internationally recognized expert on natural healing for digestive diseases. She healed herself from widespread Crohn's Disease and has remained drug and surgery-free for over 20 years. Jini has appeared on numerous podcast, TV, and radio shows throughout the U.S., U.K., Canada, and Australia, giving people hope and vision for how they can heal their Colitis, Crohn's, Diverticulitis and Irritable Bowel Syndrome (IBS), using entirely natural methods. Her books on natural healing for digestive diseases have sold worldwide in over 80 countries.