Each year, members of the Indiana Thoroughbred Owners and Breeders Association honor the state's top performers with a spring banquet. Due to restrictions associated with COVID-19, the banquet was canceled the past two seasons, but the state is still honoring the top performers of 2020 during the 2021 season at Indiana Grand.
Top performers in each division are highlighted daily on the simulcast production, and to honor two of the state's top awards, a special presentation was made June 8 for the ITOBA/Indiana Breed Development Breeder of the Year and the 2020 Champion Indiana Horse of the Year. Top breeding honors were awarded to Deann Baer and Greg Baer, DVM, breeders of the 2020 Indiana Horse of the Year, Piedi Bianchi .
The Baers have bred many winners in recent years. Hailing from Columbus, Ind., the small breeding operation sends many yearlings to the sales in Kentucky, where Piedi Bianchi was originally transported as a weanling.
Piedi Bianchi was purchased for $80,000 by agent Dennis O'Neill her third time through the sales ring at the 2017 Ocala Breeders' Sales March Sale of 2-Year-Olds in Training when consigned by Halcyon Hammock Farm. Her connections, Jay Oringer, Jack Bick, Al Bianchi Racing, Adam Bayroff, and Mike Maturo, have reaped rewards since that time.
The now 6-year-old daughter of Overanalyze  won two of three starts at Indiana Grand in 2020 and collected a total record of 4-1-1 from nine starts last season with earnings of $219,947. Her biggest victory came at Indiana Grand in the Frances Slocum Stakes, which she also won in 2018. From 24 career starts to date, she has a 6-5-5 record, earnings of $650,197, and is also multiple graded stakes-placed.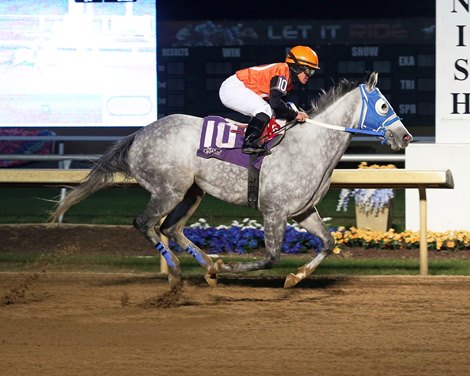 Piedi Bianchi wins the 2020 Frances Slocum Stakes at Indiana Grand
Piedi Bianchi placed in grade 1 company three times at 2 when conditioned on the West Coast. Now with trainer Carlos Martin, she most recently finished second in the Intercontinental Stakes (G3T) June 3 at Belmont Park.
"We hope to get her back to where we started in November at Del Mar (for the Breeders' Cup)," said Oringer, who was present for the awards ceremony. "Her career is winding down, but we hope she has a few more good races in her. Once she is done racing, she will be a broodmare and we are thinking Tapit  . The baby should come out nice and gray."
Oringer and his partners work hard to ensure every horse they have ever owned gets a good home after racing. A portion Piedi Bianchi's earnings goes to racehorse aftercare.
"It's important to us to give to aftercare," added Oringer. "We make sure all of our horses are taken care of after they are done, even if we have to claim them back."
Eric Halstrom, vice president and general manager of racing at Indiana Grand, and Leigh Ann Hopper and Terry Phillips of ITOBA, were on hand for the trophy presentations. Rachel McLaughlin, on-air racing commentator, conducted the special ceremony. Trainer Tim Glyshaw accepted the award on behalf of the Baers.