DB: this exhibition features your projects alongside those of piet oudolf. how much of an influence has oudolf's work had on you?
peter veenstra (PV): when we were studying landscape architecture, 'gardening' was a swear word. it meant someone had spent time on random details and shapes while losing track of the bigger picture. when slowly the interest in public gardens and more sophisticated planting plans was reemerging, piet oudolf was there to wow everyone with pictures of his gardens, including us.
our interest in piet's work primarily led to collaborations, in which we both have our territory of expertise. in these collaborations, piet has inspired us: his absolute focus on the core of his work, openness to collaboration and positive world view.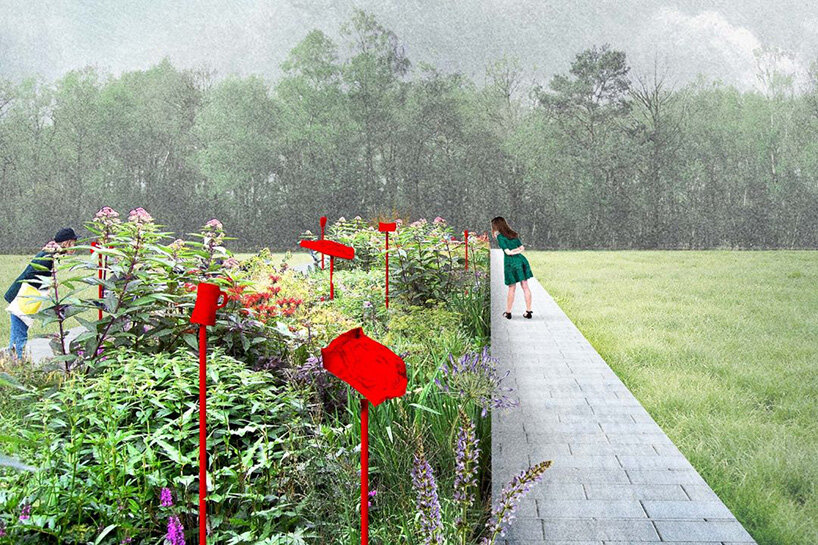 rendering of the etzenrade castle project, designed by both LOLA and piet oudolf
PV (continued): in landscape architecture it can be hard to find inspiring clients, since most of them are either civil servants who are just doing their job, or project developers who's heart is more attached to architecture. while we are building a reputation, this is improving, but piet is on another level. he attracts clients with a clear ambition when it comes to landscape, and an outspoken taste. that's very stimulating to work with.
recently we got very interested in (re-)afforestation as a climate solution. while many of the large scale afforestation projects are rather monotonous, we asked ourselves: can we somehow bring some of the aesthetics that piet oudolf is bringing to his meadows, into forests? we started to develop algorithms to generate tree patterns with more natural diversity and surprise.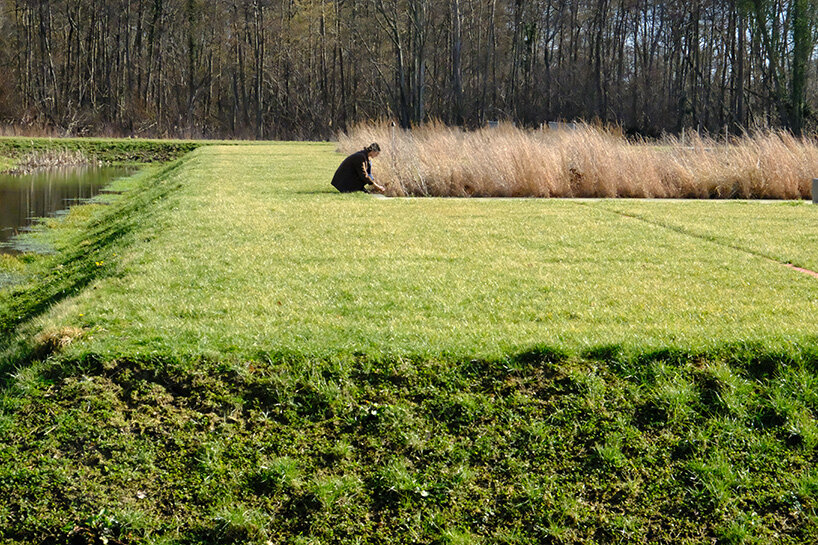 'after landscape' is a project by artist sanne vaassen in etzenrade | image by anne buscher
DB: the name LOLA comes from 'LOst LAndscapes'. how important is it to ensure that good landscape architecture can be accessed by as many people as possible?
PV: on a global scale, there is no lack of beautiful nature. yet many people have a different daily experience, and we know how important it is for everyone's well-being. you could say this is a problem of distribution and accessibility of nature. the core business of a landscape architect is to tune this accessibility and distribution. surely not all landscapes should be made accessible in the same way and become paved paradises like in joni mitchell's song. you shouldn't measure the success of a landscape or a public space by the amount of visitors. it's a matter of finding the right balance between universal accessibility and universal inaccessibility — and everything in between.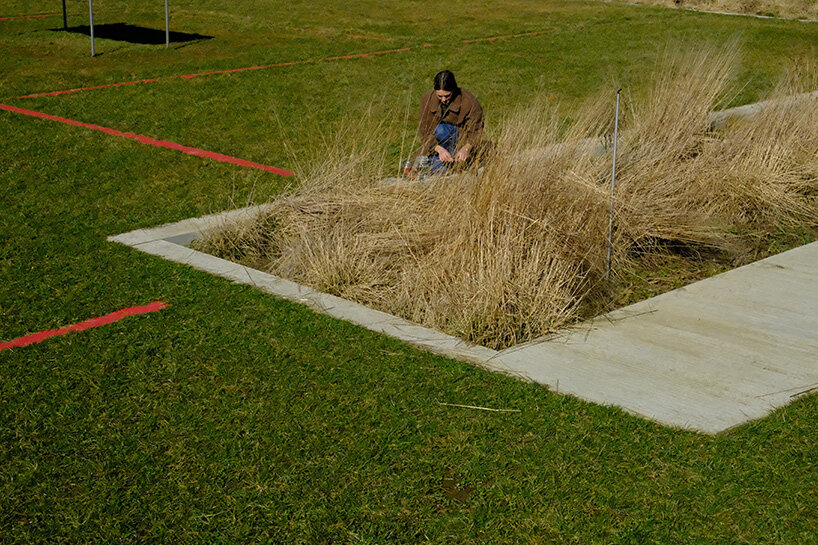 'after landscape' is a project by artist sanne vaassen in etzenrade | image by anne buscher
DB: how can good landscape architecture help with issues such as rapid urbanization, climate change, and flooding?
PV: by envisioning future-proof environments that also offer a new perspective on how we can live together. the debate on spatial planning is very much focused on problems and solutions. but it's important to go beyond solving problems — nobody wants to live in the solution of a problem. we need to create environments that inspire future generations.
it's important to realize that most design research can fuel a discussion, but will never be realized. therefore it can help to make polemic plans — the biggest impact we ever had with design research was a scenario for the netherlands in 2200, where half the country is flooded. the radicality of the proposal sparked a widespread discussion on the long term future of the netherlands.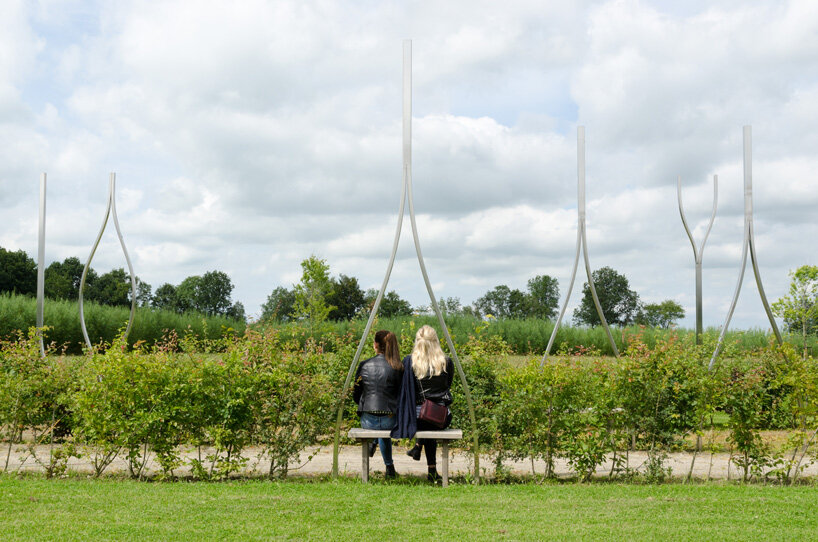 park groot vijversburg is a public park in the north of the netherlands designed by LOLA
DB: why do you think the netherlands has such a tradition of renowned landscape architects? are the country's topography or climate factors?
PV: in the netherlands, all the necessary infrastructure is there for talent to grow; schools, clients, open-minded architects to collaborate with, funds, magazines. worldwide, landscape architecture is still an emerging profession; there are still many countries that lack a good school for landscape architecture.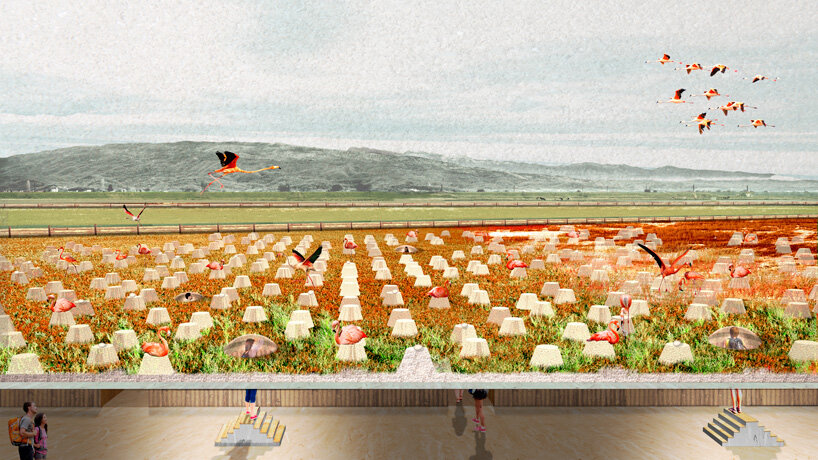 the solana ulcinj masterplan proposed for montenegro | image courtesy of LOLA
PV (continued): the dutch landscape is a big playground for landscape architects. for a large part, the country is an artificial construction; everything has been designed, there is hardly any wilderness, and most of the historical landscapes have been rationalized into modern farmland. it's not a natural beauty, and it is in constant need of surgery to keep it well. that generates a lot of work, but also a culture of innovation.
but to put things into perspective: the fact that dutch landscape architecture is well-known, is not just because of the quality. because we live in a small country, we are eager to export. we have a tradition of trade. the whole world knows heineken, and this is not necessarily because of the great taste of it.
book details:
name: landscape works with piet oudolf and LOLA — in search of sharawadgi
ISBN 978-94-6208-630-2 | june 2021 | expected | fabian de kloe, peter veenstra, joep vossebeld | design: sam jacob & fraser muggeridge | english | 21 x 30 cm | 192 pages | illustrated (200 full color) | in conjunction with: SCHUNCK museum, IBA parkstad
exhibition details:
name: landscape works with piet oudolf and LOLA — in search of sharawadgi
location: SCHUNCK museum, heerlen, the netherlands
dates: june 9 – october 17, 2021
philip stevens I designboom
may 19, 2021