Fox Hill Farm owner Rick Porter enjoyed extraordinary success in Thoroughbred racing, having campaigned 20 graded stakes winners and three champions. His biggest impact on the industry, however, may be with his horses outside the limelight.
Porter died June 6 at Christiana Hospital in Newark, Del., after battling cancer in various forms for more than two decades, according to Fox Hill executive assistant Victoria Keith. He was 80.
"Unfortunately, I only had him short-term, compared with most of my other owners," said trainer Richard Mandella, who most recently trained 2019 Arkansas Derby (G1) winner Omaha Beach   for Porter. "He had a great combination of being lucky and smart and enjoyed as great a success in racing as anyone you can think of. He spent good money but he didn't go money-whip it."
Porter's star runners were supernovas that included 2011 Horse of the Year and six-time graded stakes winner Havre de Grace , who he sold for an eye-popping $10 million in 2012 at The November Sale, Fasig-Tipton's premier breeding stock sale. Other grade 1 winners were nine-time grade 1 winner Songbird , trained by Jerry Hollendorfer who earned championship titles in 2015 and 2016; Kodiak Kowboy , a champion in Canada at 2 and 2009 U.S. champion sprinter; and Hard Spun  , Jostle , Joyful Victory , and Round Pond .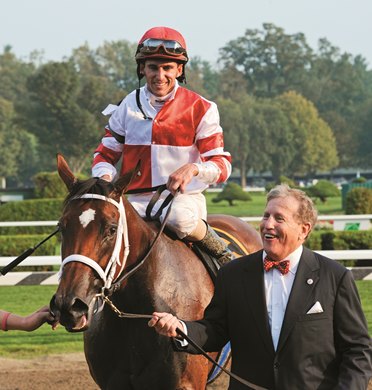 Rick Porter leads Havre de Grace into the winner's circle after the 2011 Woodward Stakes at Saratoga Race Course
The first horse Mandella had with Porter was Brazilian Triple Crown winner Bal a Bali  , who showed him Porter's true commitment to the horses in his care.
After coming to the United States Bal a Bali developed laminitis, which can often be fatal for horses. Given the best in cutting-edge treatment, the horse recovered and became a graded stakes winner for Fox Hill and later a multiple grade 1 winner for Calumet Farm.
"With Rick, the horse always came first," Mandella said.
Porter's philosophy of horse care extended to his entire stable and sometimes beyond.
"If he had a horse that was starting to have a problem, he gave it time. If it was an issue that couldn't be fixed, then you just retired it. He then made sure the best thing happened for them after racing," said trainer Larry Jones, who guided the careers of Havre de Grace, classic-placed Hard Spun, and at times Kodiak Kowboy, and had trained for Porter since 2006.
"The extent he went through to be sure the horses had a good life and got another job went way beyond any other owners I've dealt with. I know breeders who do the same, but he did this with horses bought," Jones continued.
General Ike is a most recent example, according to Jones. The Quiet American gelding was raced by Fox Hill from September 2013 through most of 2015 before he got claimed. Five years later, Keith found General Ike racing among $4,000 claimers at Turf Paradise. Porter bought the horse, retired him, and found him a new home.
With another gelding claimed from him named Ronald Reagan, Porter got a call from the Pennsylvania Thoroughbred Horsemen's Association Turning For Home aftercare program. The horse had been donated to the organization, but after he had broken down. Porter paid for extensive knee surgery that allowed Ronald Reagan to retire comfortably and be useful to another program in Florida.
"His horses' well-being was always his top priority over any trophy," Keith said in a prepared statement. "He believed in transparency, sharing vet reports publicly, and being open with injuries and considerations regarding stable management. He encouraged fan interaction, making them feel part of the team. He welcomed the challenge of the best meeting the best on the track, resulting in some of the most memorable match-ups of the past decades. His empathy for horses in need led to the founding of the National Thoroughbred Welfare Organization which has rehomed over 250 at-risk horses in the past few years. His Fox Hill Farm became synonymous with excellence and ethical ownership."
Breeders' Cup recognized Porter as a "great sportsman and humanitarian."
"Porter was also extremely devoted to honoring the great sacrifice exhibited by military veterans. He provided generous support to the Home For Our Troops program, and prior to the 2019 Breeders' Cup at Santa Anita Park, he invited injured veterans to visit his 3-year-old Omaha Beach. We extend our deepest sympathies to his loved ones and to the entire Fox Hill Farms team," the organization said in a statement.
Veterans meet Omaha Beach at Santa Anita Park ahead of the 2019 Breeders' Cup
It was most appropriate that Porter passed on the anniversary of D-Day. A U.S. Army veteran, Porter was an ardent supporter of veterans organizations and showed his commitment through some of his racehorses' names: Omaha Beach and Normandy Invasion  among them. In 2013, he invited four veterans in their 80s and 90s to Churchill Downs to watch Normandy Invasion run in the Kentucky Derby Presented by Yum! Brands (G1). Normandy Invasion finished a respectable fourth.
"As wonderful as Rick's journey was in racing, it was his journey through life with his beloved Betsy that was all-important to him. Married 59 years, they raised two sons, Cory and Scott, and a daughter, Tracey, all as beautiful in spirit as the examples they had in their parents," Keith wrote.  
"Racing has lost an important owner, but for all of us who knew Rick—his kindness, ethics, loyalty, wisdom, generosity, humility, and humor—we have lost an exceptional human being and a part of our hearts."
"Our relationship started out as a business deal, but we became very good friends. That is what made it so great," Jones added. "He had a high quality stable and he treated the racing stable as a business, but it was a business with love."
Funeral arrangements are pending.