a facility near seattle has begun the process of turning deceased human bodies into compost. recompose, an ecological death care company, announced that its first location has been open since december 2020, with ten individuals laid into vessels to begin their transformation into soil. the concept was previously covered on designboom here, when it was announced that architecture firm olson kundig was to design a 18,500-square-foot (1,719 sqm) building to facilitate the process. however, the onset of the pandemic meant that the company had to reduce costs, leading it to open in a smaller location with 10 vessels, now named 'the greenhouse'. 'we gave our first location its name because a greenhouse is where seeds germinate and where plants get their start,' the recompose team shares. 'at the recompose greenhouse, we are learning more about how best to carry out human composting before propagating our systems to other locations and, eventually, around the world.'
recompose offers a service called 'natural organic reduction' — or 'NOR' — which gently converts human remains into soil over a period of 30 days. the process is centered around individual vessels that transform human remains into clean, usable soil. it is a steel cylinder, 8 feet long and 4 feet tall, which rests inside of a hexagonal frame. recompose calls the practice of placing a body into a vessel the 'laying‑in'. the facility invites families to join the laying-in via streaming video if they choose, and at future locations, hopes to be able to have families join in person.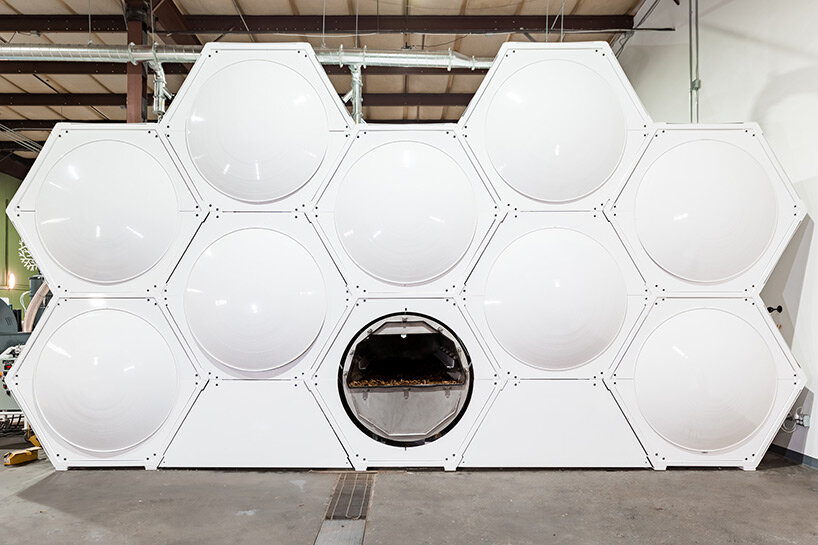 the greenhouse's vessel array, which contains 10 vessel — inside a vessel, a body transforms into soil in 30 days
all images courtesy of recompose
recompose explains that 'NOR' is powered by beneficial microbes that occur naturally on our bodies and in the environment. after the body is laid into the vessel onto a bed of wood chips, alfalfa, and straw, the cradle is placed into a vessel and covered with more plant material. the body and plant material remain in the vessel for 30 days while microbes break everything down on the molecular level, resulting in the formation of a nutrient‑dense soil. each body creates one cubic yard of soil amendment, which is removed from the vessel and allowed to cure. once completed, it can be used to enrich conservation land, forests, or gardens, or can be given back to a chosen person. the recompose service is transparently priced at $5,500 USD.
read more details about recompose's environmental impact, the process, and more on its FAQ page here.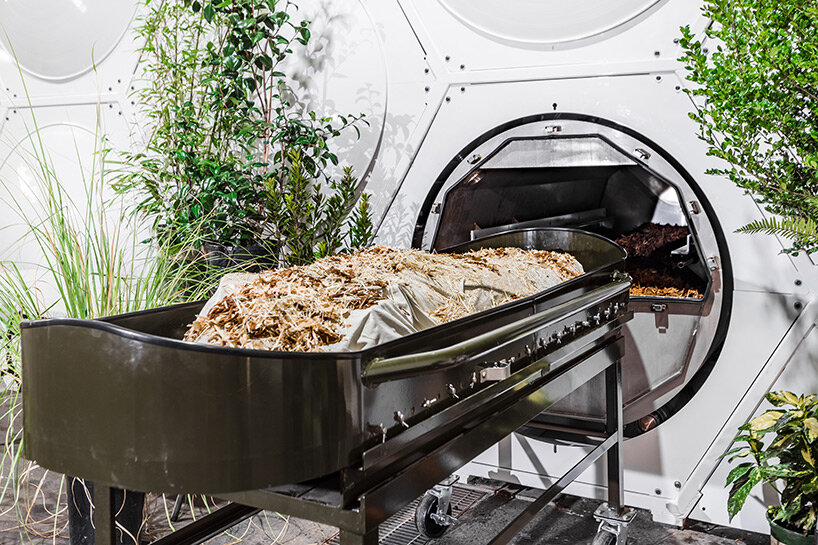 here, a dummy covered in plant material rests on a cradle in front of an open vessel
recompose calls the practice of placing a body into a vessel the 'laying‑in' — read more here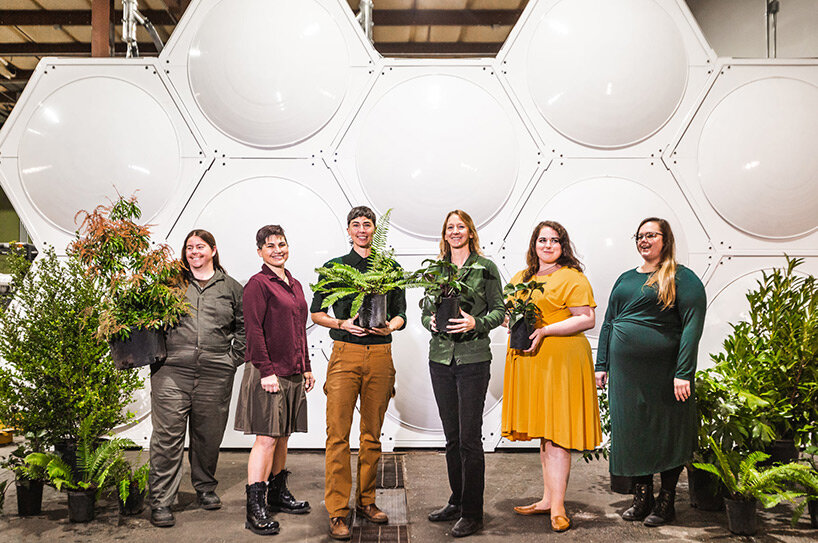 the recompose staff at the greenhouse in kent, washington
project info:
name: recompose
location: kent, washington
nina azzarello I designboom
feb 05, 2021