In the world of Victorian era English literature, Dickens wrote about a tale of two cities.
In the 2021 Triple Crown, jockey Joel Rosario can spin a tale of two rides.
One was picture-perfect. Back on Jan. 1, Rosario started the new year by guiding Rock Your World  to a 1 3/4-length victory in the career debut for the son of Candy Ride   trained by John Sadler.
Two races later, after a victory in the Runhappy Santa Anita Derby (G1) with jockey Umberto Rispoli, Rosario once again was aboard Rock Your World and experienced a nightmare at the worst possible time in a 3-year-old's career.
Subjected to the double-whammy of breaking slowly and being squeezed back to the rear of a 19-horse field in the Kentucky Derby Presented by Woodford Reserve (G1), the normally speedy Rock Your World was knocked off his game and never recovered, finishing 17th as the 9-2 second choice in the opening leg of the Triple Crown.
"He was pretty much out of the race at the beginning," Rosario said.    
Hronis Racing and David Michael Talla's Rock Your World and Rosario will get their do-over June 5 when they are reunited for the $1.5 million Belmont Stakes Presented by NYRA Bets (G1), the 1 1/2-mile final jewel of the Triple Crown where he looms as the early pacesetter.
Though he's the fourth choice in the morning line for The Test of the Champion, his 9-2 odds reflect an opinion that his natural speed could come in handy while cruising around the sweeping turns of Belmont Park—if he gets out of the gate smoothly.
"I'm excited about the race," Rosario said. "He's a talented colt. He's a really good moving horse, and I wouldn't be surprised if he handles the distance. On his best day, he can win a race like the Belmont Stakes."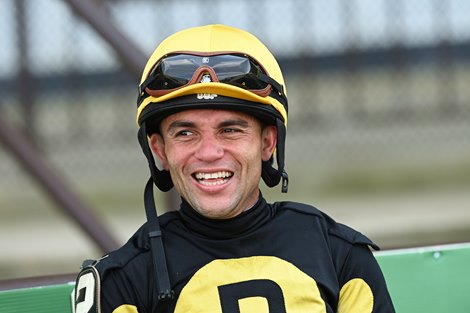 Joel Rosario at Belmont Park
The Kentucky Derby, unfortunately, was anything but Rock Your World's "best day."
He came into the Run for the Roses with just three career starts, but the most recent effort was the one that stood out. Racing on dirt for the first time, after two wins on turf, he was entered in the Santa Anita Derby where he was viewed as an intriguing threat to 4-5 favorite Medina Spirit .
Once the starting gates opened, that intrigue turned into fascination when Rock Your World grabbed the early lead and never relinquished it, pulling away in the final furlong to win by 4 1/4 lengths over Medina Spirit.
"He ran really well in the Santa Anita Derby," Rosario said.
Indeed he did.
The connections hoped for an encore at Churchill Downs on the first Saturday in May, but it was not to be.
Breaking from post 15, Rock Your World was antsy in the starting gate.
"He was moving a little bit in the gate and not standing in there like I would have wanted him to," Rosario said.
As a result, when the gates opened, Rock Your World was a step slow. Yet that alone did not seal his fate. As Rosario encouraged Rock Your World to get into stride, Essential Quality , who was in post 14, and Highly Motivated  in post 16 came together, bumping Rock Your World and knocking him back.
At the same time, adding to the 3-year-old's woes, the incident caused Rosario to come out of his irons for a moment.
"With the pressure of the horses from the inside and outside, I had to react and I lost my iron for a bit," Rosario said. "Unfortunately, things like that can happen."
And so, just a few seconds into America's most famous and coveted race, the horse who was expected to be on the lead was in front of perhaps two horses as Sadler began to raise a white flag.
"I essentially looked at my owners and told them it's over at the start. I've never really done that before," Sadler said.
Mired in the middle of the track, Rosario was able to move Rock Your World into 10th by the opening quarter-mile, but the ground loss from racing about five paths wide and the kickback conspired to sap the energy from the son of the Empire Maker mare Charm the Maker .
"He's the kind of horse that wants to be in the race. When he got left at the gate it was leaving him too much to do," Rosario said. 
Rock Your World was still 10th after six furlongs in the 10-furlong classic, but faded from there and wound up 17th while Medina Spirit led throughout to post a victory that is now in dispute due to a positive post-race drug test. He was 24 1/4 lengths behind Medina Spirit, the very same horse he defeated so handily in the Santa Anita Derby.
"It was a tough day because you know he looked like one of the horses in there that had a really good chance, being second choice. So we had our heads hung down for dinner, but you learn in this game to pick yourself up and look down the road," Sadler said. 
Five weeks later, that road brings Team Rock Your World to Belmont Park for a chance to write a more uplifting chapter in the tale of the 2021 Triple Crown.
"When you've trained as long as I have, you have a tendency to be able put those things behind you fairly quickly, otherwise you couldn't survive mentally," Sadler said. "It's very tough, very tough. I think every year with a 20-horse field you are going to see someone wiped out at the start. Unfortunately, it was me. What can we do, other than look ahead?"
Additional reporting by Byron King.