located on hoa xuan VIP island in da nang city, vietnam, 'da nang house' by AD9 architects takes shape as a four-story residence for a retired couple, their two children, and the grandmother. the architects designed an elongated structure with tall blind sides covered by concrete to minimize outside noise, dust, and strong sunlight. the front façade is clad in bent brick surfaces punctured by multi-sized round openings, featuring concrete balcony masses.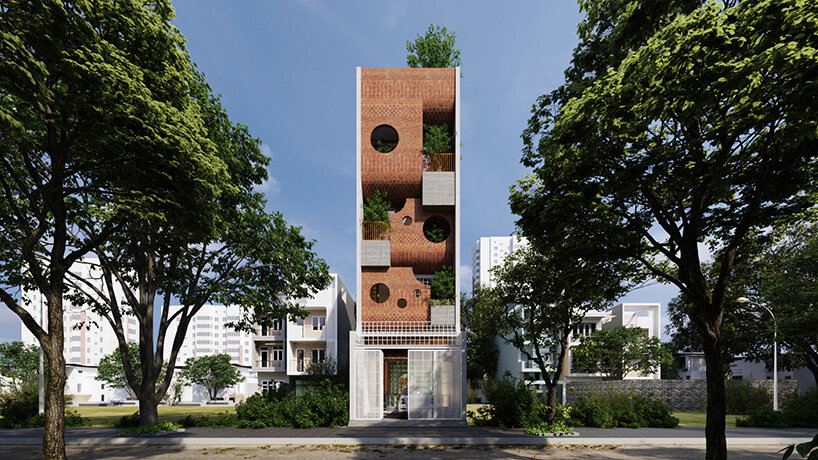 all images courtesy of quang tran
AD9 architects sought to generate empty spaces, providing a continuous flow where fresh air, greenery, and natural light coexist. the back part of the dwelling takes form as an indoor courtyard running through all the floors while the wall is covered with small square windows that protect it from the harsh weather of central vietnam. furthermore, an extruded chimney-like volume penetrates the sloping roof offering vertical ventilation and bringing natural light in. this part serves as the central axis of the house, and is surrounded by staircases, encouraging inhabitants to interact from different levels and enjoy the view opening towards the sky.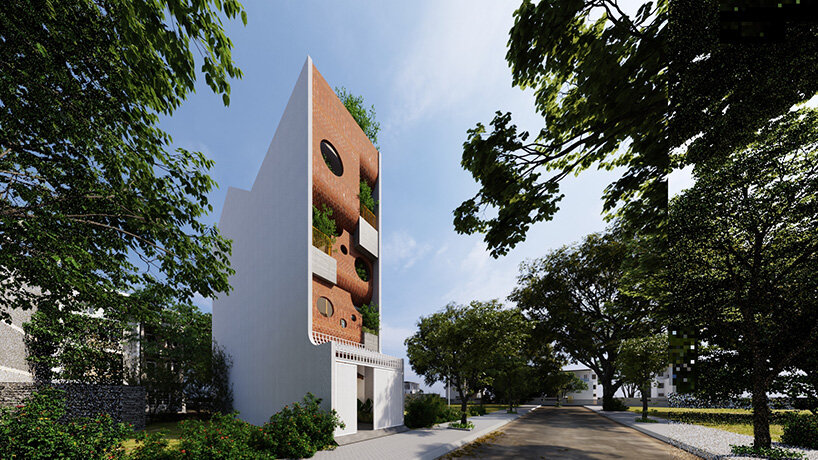 apart from the residential use in the structure, the front part of the ground level functions as a handmade card shop and is enclosed in metal mesh. the interior design mimics the bent brick exterior, creating an interesting experience at each moment of the day. arcs, curved doors — some with wooden frames— and circular apertures decorate the inside, while rustic local stones clad the walls, the ceiling, and the flooring.