Queensland studmaster Dan Fletcher believes Russian Camelot can be the stallion Australia needs to provide breeders with a legitimate alternative to the almost obsessive need for early 2-year-old speed.
An emotional Fletcher was reflecting on the devastating news that dual group 1 winner Russian Camelot, a horse the Telemon Thoroughbreds principal part-owns, had been retired after the shocking discovery by trainer Danny O'Brien that the Northern Hemisphere-bred had suffered a serious tendon injury.
It is likely the Cox Plate (G1) place-getter Russian Camelot—the winner of last year's Tab South Australian Derby (G1) and the Hyland Race Colours Underwood Stakes (G1)—sustained the injury in the March 13 All-Star Mile Stakes at Moonee Valley, when finishing second in the lucrative race to Mugatoo.
Fletcher revealed a phone call from O'Brien ended with silence, as had most conversations the trainer had with Russian Camelot's ownership group, as they tried to come to terms with the fact their star horse would not race again.
"When we retired Sunlight, I did go through the same sort of feelings, but I looked at her and thought, 'She's done everything that she could possibly do and deserves to be protected and retired,' whereas this horse was just untapped," Fletcher told ANZ Bloodstock News.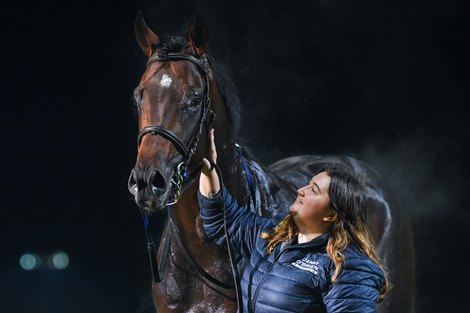 Russian Camelot receives a pat after winning a handicap race at Pakenham Racecourse
"He got one crack at them in a fair fight, and I genuinely felt he had the world at his feet. He just didn't get the opportunity to show what he can do as a horse, not a colt.
"Tragedy's a strong word, but it is very disappointing for the horse, really, just from the sporting aspect. The way he'd furnished and developed was just so exciting and everything physically you'd expect."
Negotiations for a stud deal will now ramp up as connections attempt to secure the long-term future of the lightly raced son of Camelot. The March 29-born colt was sourced for 120,000gns (US$164,972) by agent Jeremy Brummitt at the 2018 Tattersalls October Yearling Sale.
Fletcher said: "He made a big impression in his brief racing career, and I am really hopeful that he will make a lasting impression in his stud career, and I really think he can become a pivotal horse for the Australian breeding scene.
"The way I look at him, he's probably the prime example of what is wrong with our breeding industry at the moment. We had to send our money overseas to find him, so hopefully he can be the horse, having done that (on the track), who is the game-changer.
"We need to buy the right mares to support him, so he can produce locally the horses we need to contest those middle-distance races, because that's where 50% of our prize-money is and probably where 10% of our yearlings are targeted.
"I hope he's one of the contributors to changing that."
New Zealand stud farms had expressed their interest in taking on Russian Camelot, but Australian studs are also circling and Fletcher said principal owner John Wheeler will have the final say in where Russian Camelot's future lay, while he ruled out Telemon taking on the horse for its roster.
Fletcher admitted: "My mentality is that he is a horse who needs to have the right sort of mares and mare population behind him, and I don't have the numbers or the right sort of mares to do justice to him (at Telemon). All I am interested in is seeing him become what he is entitled to be.
"Selfishly, I'd love for that to be somewhere in the Hunter because we'd be looking to really push him and get behind him, but if he's elsewhere that becomes a bit more difficult, so that's just a selfish, personal answer.
"At the end of the day it has to be the right commercial decision for the ownership group and John, because he's the primary owner.
"It will be interesting to see how all that comes to light. I would expect there'd be interest from New Zealand, he'd be perfect for that jurisdiction, and there'd be other places I gather that will be around [and making a play for him]."
Recovering to Race Unrealistic
Rehabilitation was an unrealistic proposition, according to Fletcher, given Russian Camelot is a rising 5-year-old.
"He would need at least 12 months rehab based on the vet reports and John, who is the major part-owner, has never been shy of testing the horse," said Fletcher.
If rehab was a viable option, I am sure it would have been deeply considered, but the probability of giving him 12 months off and then getting back under the circumstances was pretty remote."
The fact of the matter is, he's a very valuable, appealing stallion prospect, so I think we made the only sensible decision you could make."
Russian Camelot was being aimed at the AU$4 million Queen Elizabeth Stakes (G1) and possibly the Doncaster Handicap (G1) during the Sydney autumn carnival before yesterday's developments.
"It's a shame his career ends prematurely, as I felt his best racing was ahead of him up in Sydney this autumn and in to next spring and beyond, however, I have no doubt he will have a significant impact on our industry for years to come through his stud career," trainer O'Brien said in a statement.
"From the moment we bought him at the Tattersalls sale in Newmarket, he has been a standout colt."
Russian Camelot won four of his 11 starts and earned his connections A$2.35 million ($1,698,314) in prize-money.
Russian Camelot is one of three winners for the unraced mare Lady Babooshka, a three-quarters sister to group 2 winner Alkaadhem and a half sister to the stakes-placed Raising Sand.
Her 2018 foal, the Sylvester Kirk-trained Russian Camilla, won on her debut at Kempton in November last year.