RSHP and CNADRI present their winning design for the new terminal 4 bao'an international airport in shenzhen, china. the scheme will introduce a massive new terminal building with 60 new stands and connections to the mid-field satellite. working with aecom and railway 2, the terminal will link to both the existing and new transport infrastructure. the project will mark the center of a new 'airport city' and will stand as a landmark portal through which thousands of people pass will each day. the design provides shenzhen with a state-of-the-art terminal with a focus on passenger experience, wellbeing, and sustainability. celebrating the forward-facing and dynamic spirit of its context, it will become a standard for next generation airports.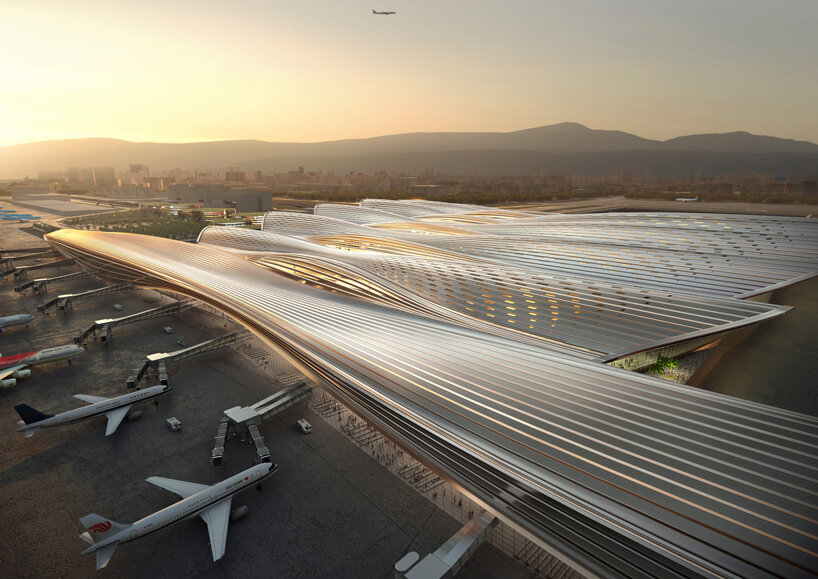 image by ATCHAIN
the entire face of boa'an airport's new terminal 4 in shenzhen is expressed as a cityscape rather than a typical front door. the winning design results from a collaboration between rogers stirk harbour + partners (RSHP) and china northeast architectural design & research institute (CNADRI). stemming from the interior central garden is a network of landscaped pathways leading to the airside and landside along with transportation connections within the terminal.
the new terminal at shenzhen's boa'an international airport aims to meet a number of key sustainable design objectives. its compact form provides an optimal surface area to volume ratio, maximizing the use of natural light while controlling solar gain. the project includes extensive vegetation, displacement ventilation, low water consumption including rainwater harvesting and a significant proportion of off-site prefabrication. these strategies as well as an efficient plan, equipment layout and the promotion of integrated public transport connections will all serve to minimize the building's energy consumption in use.
project info:
project title: terminal 4 bao'an international airport in shenzhen
architecture: rogers stirk harbour + partners (RSHP) + china northeast architectural design & research institute (CNADRI)
status: winning competition entry
visualization: ATCHAIN