it has been announced that stefano boeri will be the curator of a special event at salone del mobile.milano, which will take place from september 5 -10, 2021 during milan design week. working together with a team of internationally renowned young architects and professionals, boeri is planning 'an unmissable event', open to both professionals and the general public. 'in addition to the recent and best innovations presented by companies, there will be high quality design products on sale at prices dedicated to the opportunity that respond to the desire expressed by thousands of families and companies today to rethink the home and work spaces.' boeri comments on the exhibition. 'the event of 2021 confirms, once again, the centrality of milan as the world capital of creative innovation and social generosity.'
it is rumored that the exhibition at salone del mobile.milano will comprise a path of themes and categories hosted across several pavilions, featuring a tightly-curated selection of pieces by each participating manufacturer. the event, whose name is set to be revealed shortly, will represent a unique model in the international panorama of furniture and design exhibitions. companies will have the opportunity to present the best of the production of the last year and a half in a highly emotional and scenographic context. the unique project intends to appeal to not only the design sector's manufactures, but also the international creative community at large, and the general public of consumers. visitors will be able to access the exhibition center for the entire duration of the event and be able to purchase the creations of the companies at exclusive prices at rho fiera — a portion of the proceeds will go to a charitable cause.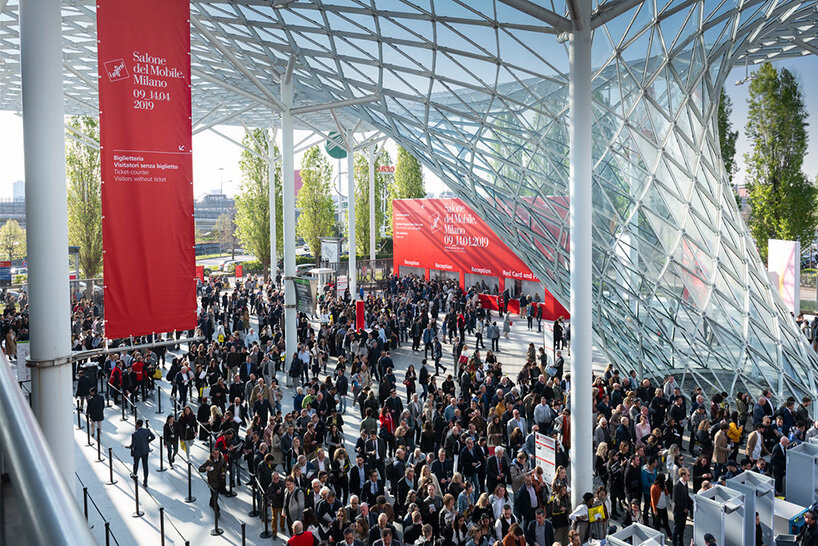 views of salone del mobile.milano 2019 | image by alessandro russotti, courtesy salone del mobile.milano
main image by andrea mariani, courtesy salone del mobile.milano
'the september event will be a unique and innovative event which — thanks to the experience and sensitivity of architect stefano boeri and the young curators who will work alongside him — will be able to show the best of our companies' know-how and the ability to innovate in the eyes of a national and international audience,' says claudio feltrin, president FederlegnoArredo. 'the event will allow all visitors to explore and deepen the evolution underway in the world of contemporary furniture and living, consecrating milan as the undisputed capital of the design economy — a symbol of the restart around which all the best energies will gather to honor what the salone del mobile.milano has always represented.'
following the rescheduling of the event and resignation of its president claudio luti, salone del mobile.milano has officially confirmed september 5-10 as its new dates, and will reveal more details about the stefano boeri-curated special event in coming days.
nina azzarello I designboom
may 11, 2021