If your child (or you!) has been getting unexplained headaches, nosebleeds, insomnia, heart palpitations, nausea or dizziness, then it's a really good idea for you to take a look at your cell phone and WiFi exposure as a possible cause. This email sent out by a woman working tirelessly to get her school to hardwire their computers is a very powerful testimony and may do more to make people aware of the ill health effects of this technology than all the scientific info I've been posting here!:
"My experience is different than most parents.
Last month my internet provider died of Adenoid Cystic Carcinoma at 48 leaving behind 4 young kids.  He used his cellular phone much more than 30 minutes a day and used wifi routers at his office and at home as well.
A few weeks ago singer Adam Yauch died of Parotid Salivary Gland cancer at 47.  He also used a cellular phone heavily for more than 20 years.
It's possible that both deaths were preventable.
My neighbour's partner used a brick phone in the 80's and last year underwent surgery to remove a brain tumour with his kids being just 9 and 12 years of age.
I have a friend who is a chef and another who has a 16 year old daughter. Both live with wifi routers and use wifi enabled laptops and use their cellular phones more than 30 minutes a day and sleep with their cell phones on their night table.  Both women stopped menstruating for seven to ten months until they reduced their wireless usage.
My friend's son has heart palpitations at the age of 12 and needs a heart monitor and his school has several commercial grade multiple antenna wifi routers.  When he is at home, his heart has a regular rhythm.
My naturopath's daughter sat under a commercial grade multiple antenna wifi router at school for a year and became dizzy, nauseas, anxious, had ringing ears, headaches, and was light headed – which are all classic symptoms of over exposure to microwave radiation – that they had to home school her and ultimately move to a remote location away from multiple forms of microwave radiofrequency radiation.
The Toronto school board now has defibrillators in every high school because of the risk of heart attack for students.
Is it just me or does it seem extremely odd that teenagers are having heart attacks regularly?
I question everything.
These deaths and illnesses make me wonder what are we actually allowing when we say yes to a class 2b carcinogen that can't be touched, seen, heard, smelled or tasted in our children's schools?
I implore you to consider maintaining the current wired internet access at one school of each level in each district as you reflect on: "Who is liable when children start getting over exposed from microwave wireless radiation – a class 2b carcinogen?"
The schools are taking that liability away from wifi manufacturers.
Do all schools have the liability insurance to cover the illnesses that will happen in the coming years or even in 10, 20, or 30 years?
Why won't insurance companies cover wifi manufacturers?
With the best actuarial studies – it is due "to the incalculable risk to human health."
When parents start sending in their Notices of Liability to school administrators, school trustees and school district officials, will schools start treating Microwave Wireless Radiation as the class 2b carcinogen it is and protect all children with the precautionary principle and maintain current wired internet access and think: Safety over Convenience?
Microwave Wireless Radiation ultimately affects everyone.
-Susan McFee
Langley Fine Arts School PAC SD #35″
My own kids are so concerned about this that they set up their own website to educate other kids, they called it: RadiationEducation.com
If you're a parent, go to their site and download their free Action Pack. I also have numerous posts on this site going into detail about the health effects of microwave radiation from WiFi computers, cell phones, iPads, Wii, X-box, etc. Just type "WiFi Radiation" into my SEARCH box on this site and it will pull all my posts up for you.
Charlie Teo is one of the few neurosurgeons who is willing to stand up and say anything about cell phones causing brain tumours, so definitely check him out.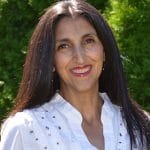 Jini Patel Thompson is an internationally recognized expert on natural healing for digestive diseases. She healed herself from widespread Crohn's Disease and has remained drug and surgery-free for over 20 years. Jini has appeared on numerous podcast, TV, and radio shows throughout the U.S., U.K., Canada, and Australia, giving people hope and vision for how they can heal their Colitis, Crohn's, Diverticulitis and Irritable Bowel Syndrome (IBS), using entirely natural methods. Her books on natural healing for digestive diseases have sold worldwide in over 80 countries.