The Animal Communicator is the most fabulous film that not only shows you how animal communicator Anna Breytenbach dialogues with various animals – but Anna explains exactly HOW she is doing it, in a very detailed way that allow us to use the same techniques with our own animals!
Anna can feel the scars hidden under a monkey's fur, she can understand the detailed story that is causing a bird's trauma, she transforms a deadly snarling leopard into a relaxed content cat – the whole animal kingdom comes alive in a way most people have never seen before.
This is such a healing, restorative film to watch. When I watch it, it opens my heart and brings me peace.
The full-length film is available for purchase here from Kalahari.
This excerpt gives you a great taste and is the story of how Anna works with a disturbed black leopard:
Connect more with Anna Breytenbach.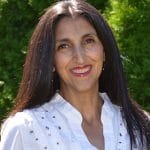 Jini Patel Thompson is an internationally recognized expert on natural healing for digestive diseases. She healed herself from widespread Crohn's Disease and has remained drug and surgery-free for over 20 years. Jini has appeared on numerous podcast, TV, and radio shows throughout the U.S., U.K., Canada, and Australia, giving people hope and vision for how they can heal their Colitis, Crohn's, Diverticulitis and Irritable Bowel Syndrome (IBS), using entirely natural methods. Her books on natural healing for digestive diseases have sold worldwide in over 80 countries.