brooklyn-based architecture studio, bollingen, presents its brain-inspired concept for songdo library in south korea. designed in response to an international competition organized by korea institute of architects, the proposal envisions an artificial 'brain' that both physically guides and subconsciously communicates with users.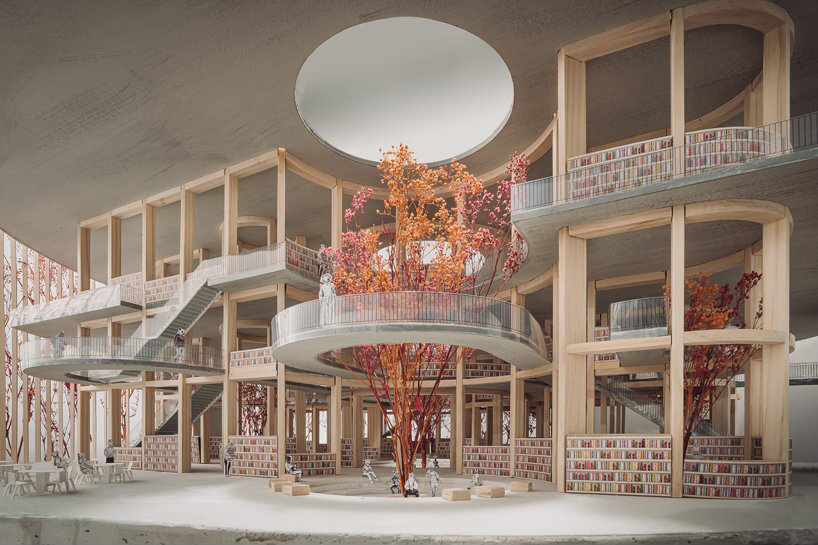 images by tim dongho yun
bollingen seeks to create a new typology of public library in the revolutionary era of information technology. the final design looks to the microcosm-macrocosm analogy, which is the idea that there is a structural similarity between humankind and the cosmos, and is inspired by the form and the function of the human brain. as a 'brain', the library not only guides people to find information and knowledge by apps and devices, but subconsciously communicates with people through various architectural languages, helping them discover the hidden treasures in their mind.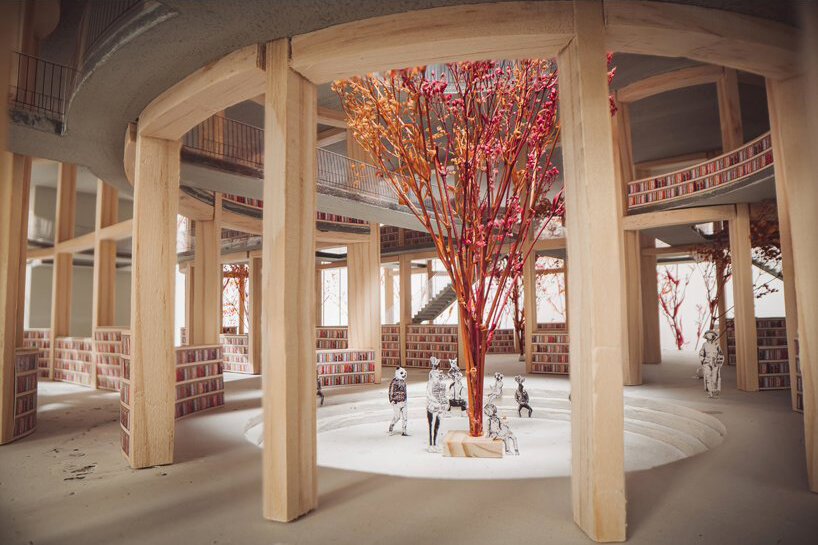 to create this living brain architecture, bollingen reinterprets the ancient wisdom and spiritual power of trees. just as trees were once a connector and source of truth in ancient communities, trees are used in this proposal as connective points throughout the architecture. additionally, trees are often used as a useful analogy for the brain as both are made up of many necessary parts.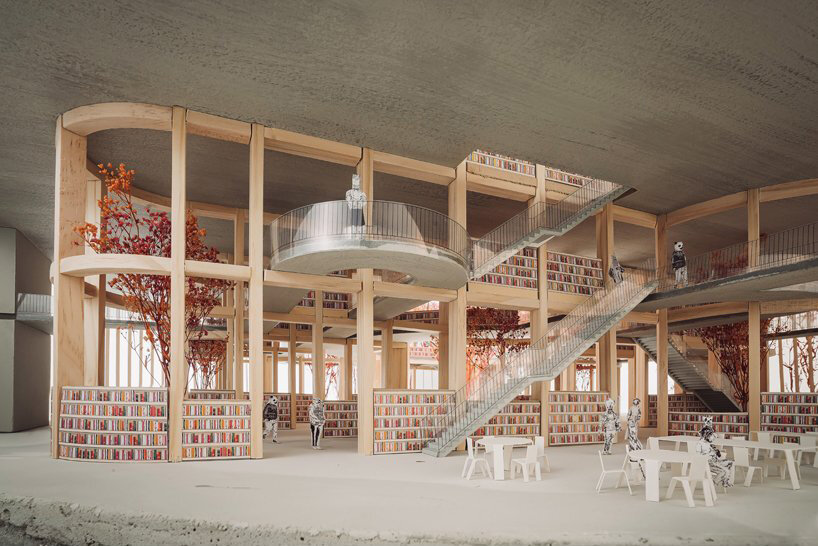 following the trees, the next element of the proposal is 'booktonic' — an invented combination of 'book' and 'tectonic'. books (in bookcases) and knowledge do not exist separately from the building, but rather become the construction material stacked and merged into a magical, living architecture, like something from a fantasy film or novel. so, the booktonic, walls made by memories and information, are used as the symbol of the brain, infinite storage of time and knowledge in both consciousness and sub-consciousness.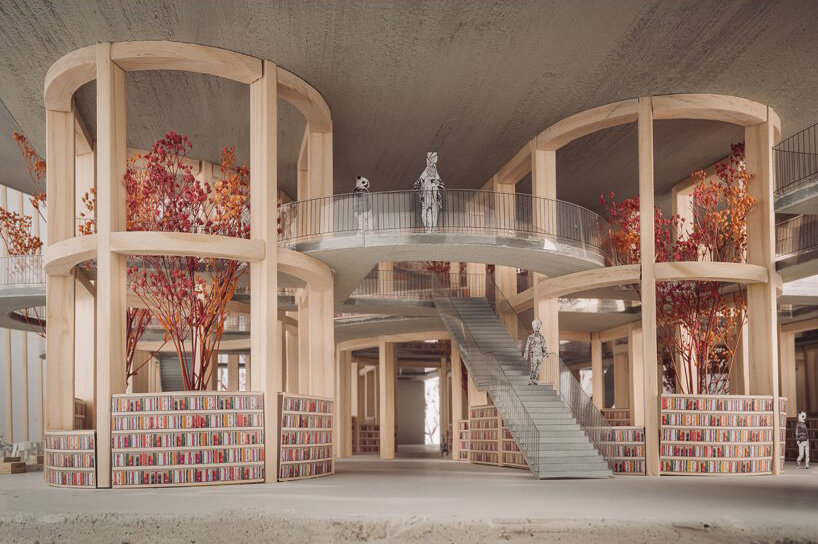 the third element of the design translates a labyrinth into the cortex of the brain, as both are complex and places to attain knowledge. just like the twists and turns of a labyrinth, bollingen has planned a complex arrangement of walls in the librray to make people lose their way, start their adventure, and then with the support of library AI, find their treasure.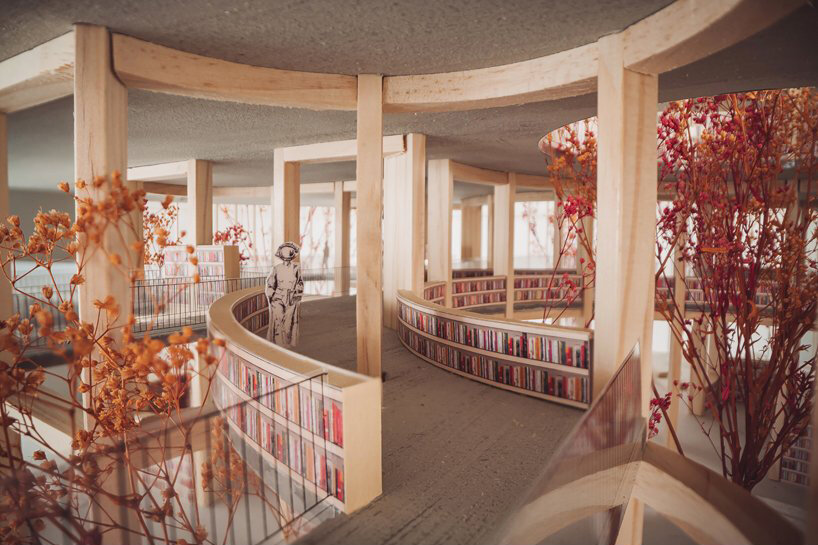 finally, after the trees, 'booktonic' and labyrinth, the design team has inserted a library network like the brain's networks of neurons. a network of sensors and communication devices connect various data to a central AI, which monitors and communicates with people to create a truly intelligent building that optimizes the public's experience of songo library.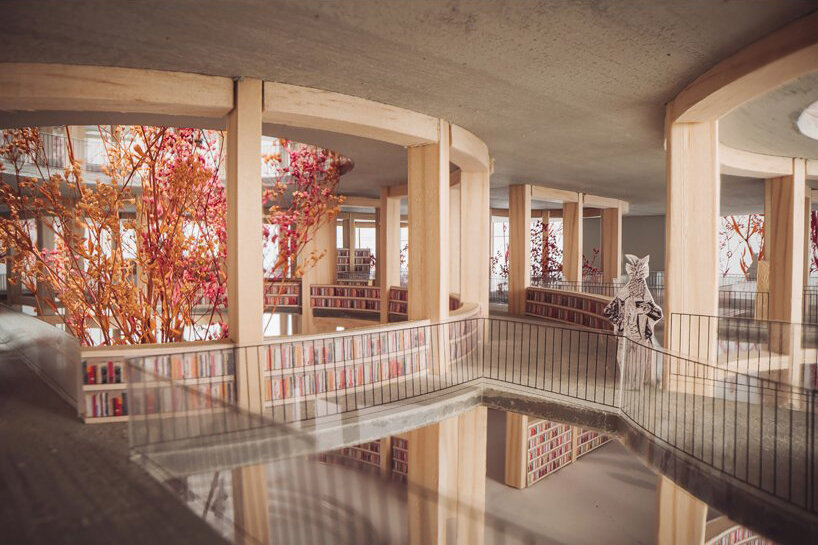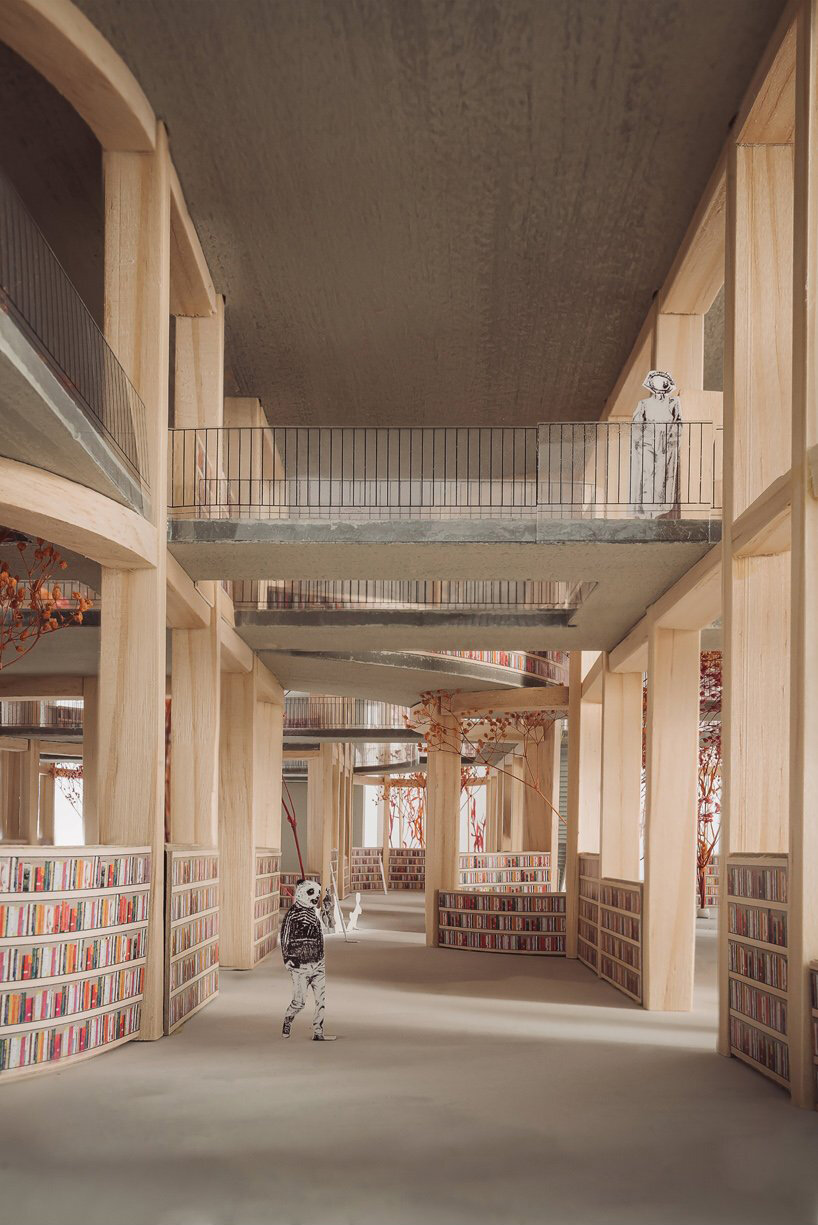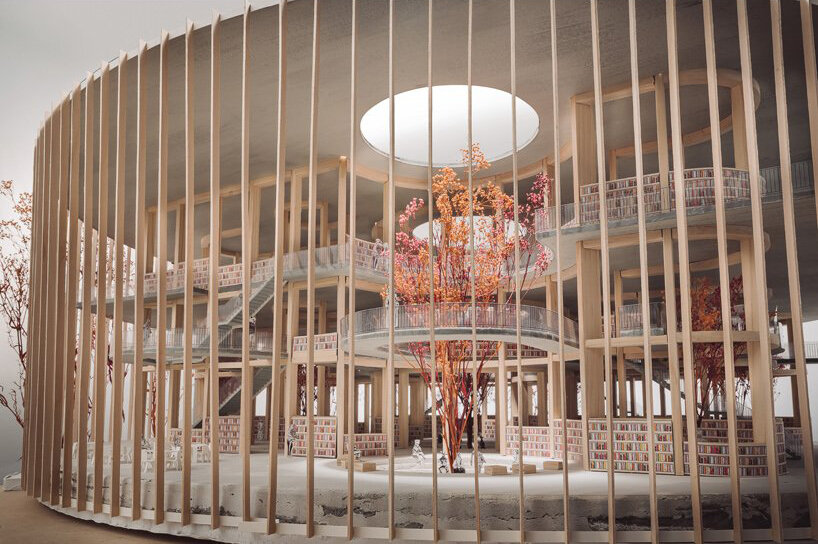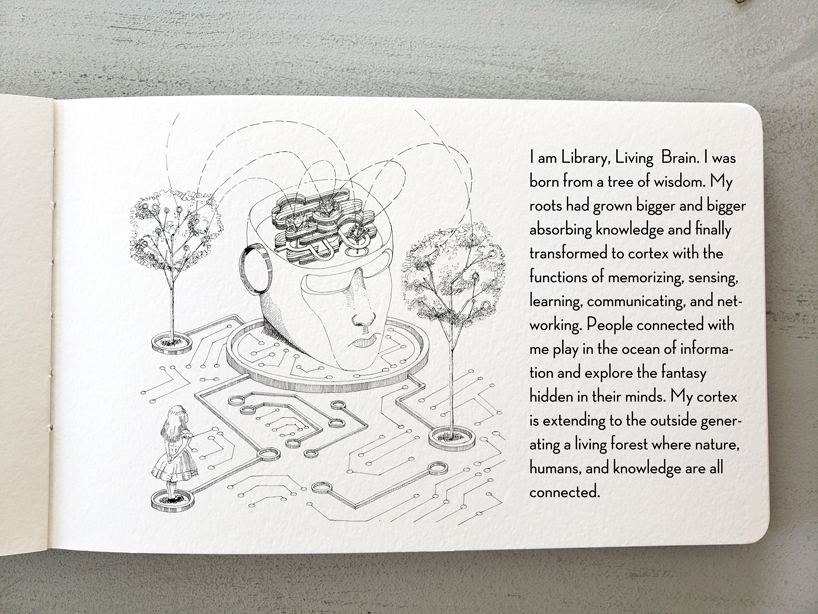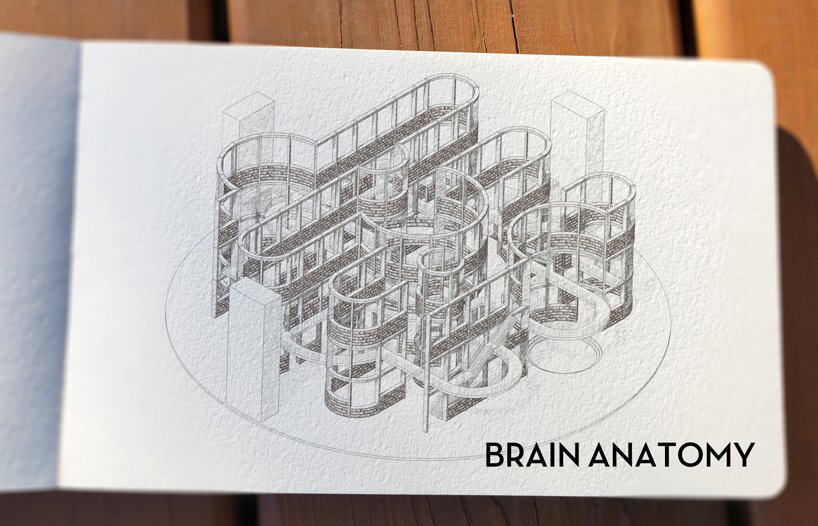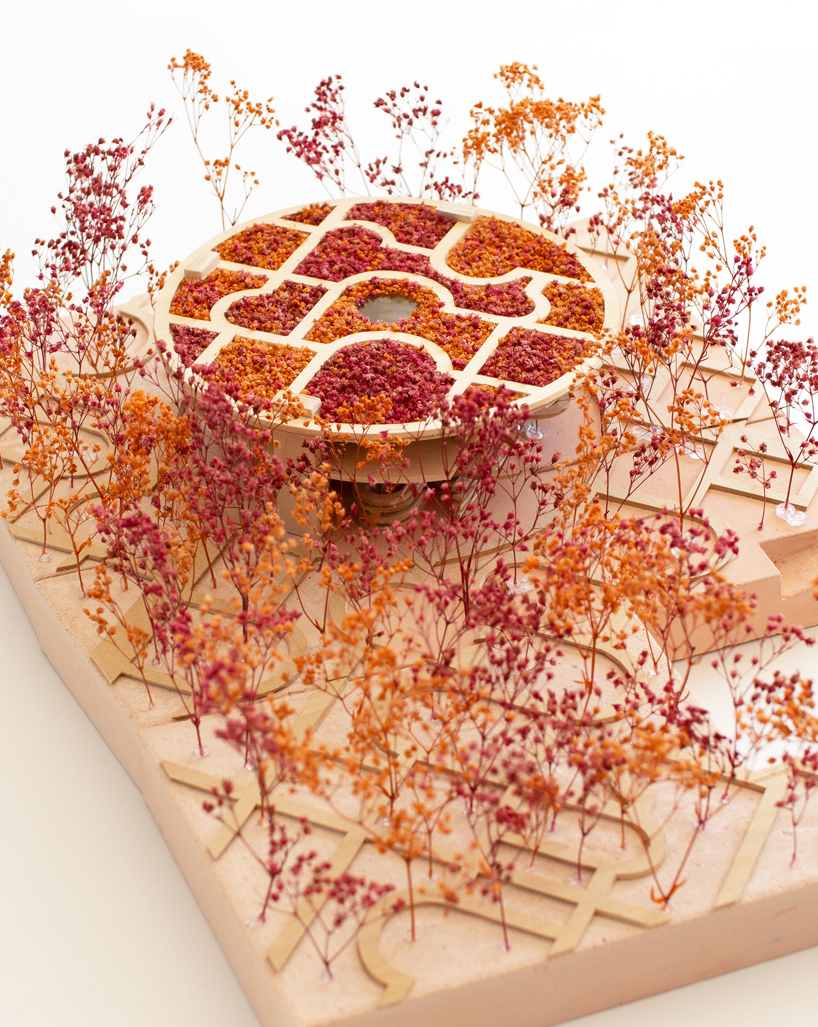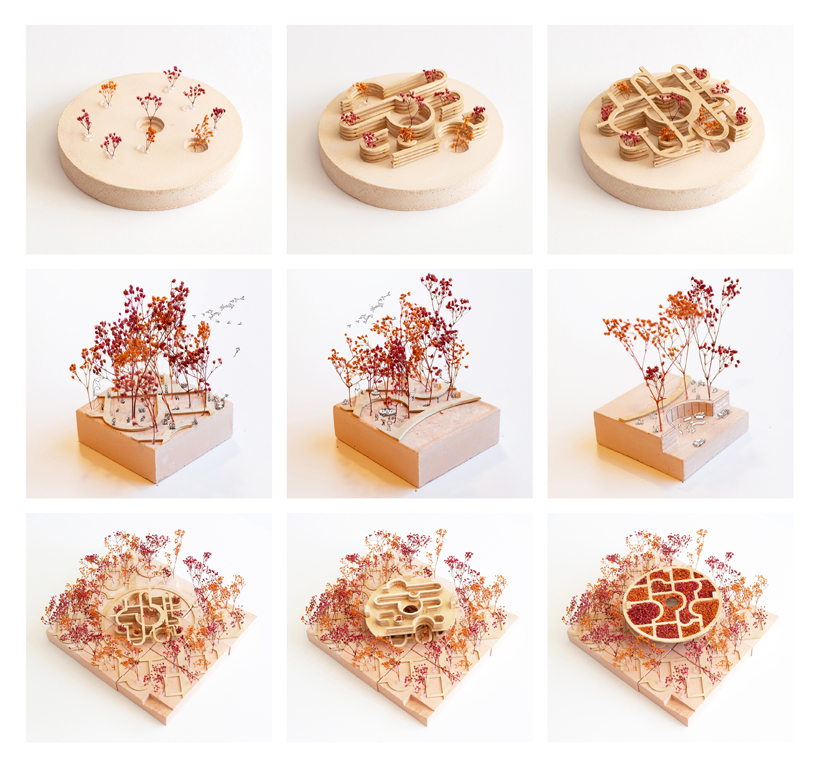 project info:
name: the brain project
location: songdo-dong, yeonsu-gu, incheon, south korea
competition: international competition for library; SONGDO international city, s. korea
competition organizer: korea institute of architects
architect: bollingen
design team: soobum you, ivan heredia, daniel heredia, jaehong chung
consultants: gemwelove (concrete design consultant), greenwell studio (sustainability consultant)
photography: tim dongho yun
designboom has received this project from our 'DIY submissions' feature, where we welcome our readers to submit their own work for publication. see more project submissions from our readers here.
edited by: lynne myers | designboom