WinStar Farm and China Horse Club are back at the May 1 Kentucky Derby Presented by Woodford Reserve (G1)—though not with the 3-year-old that so many anticipated earlier this year. Rather than Life Is Good , Sainthood  is their starter in the Run for the Roses.
Just a month and a half ago, it seemed Life Is Good could start as the Derby favorite. He had walloped the competition in the Sham Shakes (G3) and San Felipe Stakes (G2) in California for six-time Derby winner Bob Baffert. 
Then Life Is Good exited a March 20 workout at Santa Anita Park with a hind-ankle injury that required surgery from Rood & Riddle Equine Hospital surgeon Dr. Larry Bramlage. The injury wasn't serious, but the Derby implications were. The Into Mischief   colt needed time to recuperate this spring.
The Todd Pletcher-trained Sainthood then stepped up for WinStar Farm and China Horse Club, finishing second in the Jeff Ruby Steaks (G3) at Turfway Park a week later. Though he lost by a length to Like the King , he ran well with a troubled trip.
"He was a little unlucky. He got his momentum stopped at the top of the stretch," Pletcher said last week in a media teleconference. "But then he was finishing fast, as he kind of ran out of ground. So he's a colt with a lot of talent. My biggest concern is that he's had a little bit lack of experience having only had three starts."
So his owners and Pletcher are turning to someone with plenty of local experience to aid his Derby chances: 19-time Churchill Downs riding leader Corey Lanerie.
Turning to a Churchill-based jockey is something WinStar Farm has done before. Their first win in the Kentucky Derby in 2010 came with Super Saver   under local rider Calvin Borel.
"There is a picture I'll have forever of Calvin jumping in my arms after the race," said WinStar Farm CEO Elliott Walden at Churchill Downs. "It just shows the emotion of what it's like. There is no other race like it. So therefore you keep trying to win it again, no different than maybe Kentucky or Louisville trying to win a national championship. You win it once, and you get a little taste of it and you try to win again. So we're back again."
BloodHorse Plus: Walden Talks Sainthood, Provides Life Is Good Update
Back this time with partner China Horse Club, with whom they teamed with Starlight Racing and Head of Plains Partners to pull off an even more remarkable feat—winning the 2018 Triple Crown with Justify  .
Expectations are more measured this year with Sainthood, a son of Taylor Made Stallions' second-crop sire Mshawish   and bred by Edward Taylor and Springland Farm. He exits a prep at Turfway Park that has produced just two winners of the Kentucky Derby (Lil E. Tee in 1992 and Animal Kingdom  in 2011). By comparison, 24 horses have gone on to win the Derby out of the Curlin Florida Derby Presented by Hill 'n' Dale Farms at Xalapa (G1), the most of any prep, and a race that barnmate Known Agenda  won this year.
Sainthood has worked with Known Agenda, one of four Derby starters on Saturday for Pletcher, in recent weeks beneath the Twin Spires. While Known Agenda, a sometimes unenthusiastic horse when breezing, has come under urging, Sainthood has traveled comfortably.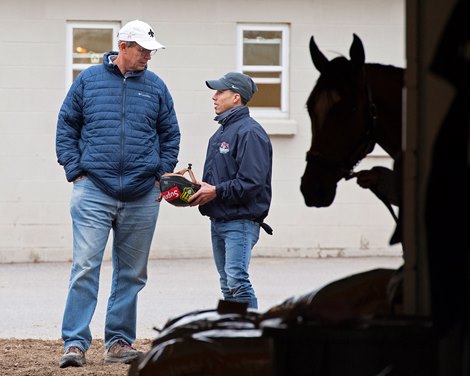 (L-R): Elliott Walden talks with Irad Ortiz Jr. outside the Todd Pletcher barn at Churchill Downs 
Sainthood isn't the only one that seems happy at Churchill. Walden, who won 1,017 races as a trainer from 1985-2005 before taking a position at WinStar Farm, has enjoyed returning this week to the Churchill backstretch, where he was long based.
Walden ran three horses in the Kentucky Derby in the 1990s, with Victory Gallop in 1998 and Menifee in 1999 both finishing second. Victory Gallop won the 1998 Belmont Stakes (G1), denying Real Quiet's Triple Crown bid that year.
"You create a real camaraderie," Walden said of mornings at Churchill Downs. "Feels like being part of the fraternity and the people here, and running into anybody from Steve Hargrave—the stall man—to track guys, to vets, to blacksmiths, to trainers, and horsemen alike. It's great to be back.
"It brings back a lot of great memories. Kids were grown up here, running through the grandstand, as I was training horses."
Life Is Good can create new memories this summer and fall upon his return for China Horse Club and WinStar Farm. Walden said Life Is Good jogged Tuesday after receiving a clean bill of health from Bramlage the day before.
"At this point I could say he is one of the top two or three horses we've ever had. I can't put him in the Justify category. Hopefully, one day we will," Walden said. "I know Bob—he talks about him in the realm of American Pharoah   and Justify. Those are tall tasks. He is an amazing horse, and we can't wait to get him back.
"Having the time off now, not having to go through this. His pace style would have been (setting or) pressing the pace —so he would have cut fast fractions and have run a long way (in the Derby). Not to say he couldn't do it, but it might have been a blessing in disguise that he actually missed this dance."